If there was a team that could ill-afford to blow a late lead, it was the No. 8 Boston University men's hockey team.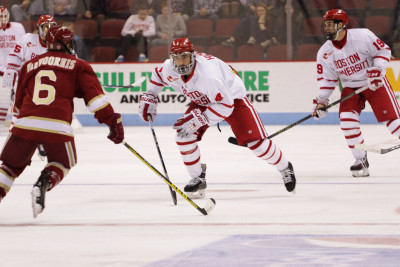 Losing two games in row for the first time in a year and a half, the Terriers were not looking to drop a third. After blowing a two-goal, third-period lead, though, it seemed destined that it could happen again.
Fortunately for the Terriers, they had senior winger Ahti Oksanen.
Skating along the left wing through neutral ice and into the offensive zone, Oksanen sniped his second goal of the game from the top of the left circle 21 seconds into overtime, winning the game for BU over No. 5 University of Denver, 5-4.
In spite of letting the lead slip away, the Terriers (3-3, 1-2 Hockey East) hung on for the win and avoided losing three games in a row since Feb. 2014.
It was BU's third straight home victory and Denver's (3-3) second consecutive loss on Commonwealth Avenue this weekend, as the Pioneers fell to No. 4 Boston College on Friday night.
Less than 24 hours after losing to conference foe No. 17 Merrimack College by one, getting a one-goal victory against a ranked opponent felt encouraging for BU head coach David Quinn.
"It's certainly nice to bounce back and get a win after last night," Quinn said."I really liked our first two periods. I think our third period was a microcosm of where we are mentally right now. I don't know if we're really ready to win and put teams away."
What Quinn saw from his team in the first two periods was one that was aggressive and took advantage of the chances it had. In almost a role reversal from Friday night, the Terriers got off to a fast start, getting on the board in the blink of an eye. Just 1:58 into the game, freshman winger Ryan Cloonan scored BU's quickest goal of the season thus far.
Senior assistant captain Matt Lane took the puck behind the Denver net and skated to the left side, finding Cloonan in the low slot, and he finished the play with his third goal of the year.
The Terriers ended up working off three Pioneer power plays in the first, but Denver netted a goal on an even-strength chance halfway through the period. On a two-on-one chance, defenseman Will Butcher capped off the quick rush with a shot that beat sophomore goaltender Connor LaCouvee far-side high.
It took BU about seven minutes to regroup, but the third line's hard work paid dividends. Sophomore winger A.J. Greer won a one-on-one battle behind the Denver net, fed it in front and found junior center Robbie Baillargeon, who beat Jaillet down low at 17:29.
What ended up being a strong first period led to an equally good second period with two more goals, one from sophomore defenseman Brandon Hickey and the other from Oksanen.
Hickey took a loose puck from center ice, drove wide through the right wing and backhanded a shot high over Jaillet near the seven-minute mark. Hickey's tally spelled the end of the night for Jaillet, who was replaced by junior Evan Crowley.
Things didn't fare much better for Crowley early on, as Oksanen scored his first goal of the year, shooting one high into the net off a feed from senior assistant captain Danny O'Regan on the power play.
In between BU's two strikes, forward Gabe Levin took advantage off a Terriers' in-zone turnover and wristed a second-chance opportunity by LaCouvee.
But in the third period, Denver seized control and tied the game. Without LaCouvee, it could've been far worse.
Minutes into the third period, the Pioneers cut right into the BU lead. Freshman Troy Terry found space in front of the net, and he deposited a rebound into the net as he was falling to the ice.
Forward Quentin Shore followed with a shorthanded opportunity, following a long shot and batting in his own rebound to tie the game at 4-4. Denver continued to press in the BU zone. The Pioneers out-attempted BU 36-10, peppering LaCouvee for a majority of the 20-minute frame. He stood tall with 16 saves while also helping kill off two power plays.
After several games of inconsistent goaltending, Quinn liked what he saw from his backstop.
"He certainly did a great job tonight," he said of LaCouvee. That was a Division I goaltending performance and a really good night."
With LaCouvee's help, BU warded off a last-second attack and set up overtime, and from there, Oksanen didn't need much time to end things in overtime.
"It's  a great win," Quinn said. "That's a talented, talented team. You're not going to see many better teams in the country than them. And they've got some great players, [head coach] Jimmy [Montgomery] does a great job coaching them. You hold your breath every time that top line gets out there. But I thought we did a pretty good job overall tonight.