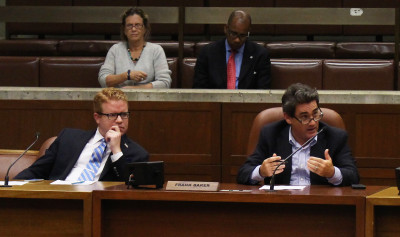 Less than a week before municipal elections, Boston City Council voted 9-4 Wednesday in favor of giving its members a salary increase of $12,000.
The pay hike, proposed Aug. 31 by Boston Mayor Martin Walsh, will raise councilor salaries 14 percent from $87,500 to $99,500. Walsh's pay will also be capped at $199,000 instead of $175,000.
Left untouched by City Council, the motion would have gone into effect without a vote after the Nov. 3 elections, The Daily Free Press reported on Oct. 15. The changes will be implemented in January.
"If the city's finances are doing well and people are doing better, that's an opportunity to talk about a raise. If they're not doing well and people's finances are feeling worse, then we should feel that as well," said Councilor Matt O'Malley shortly before the vote at Wednesday's City Council meeting. "This is it, this is literally the eleventh hour."
O'Malley talked about the importance of accountability for the decisions that the council makes.
"I do it, we all do it, at our own peril, but we need to stand up and be accountable for the votes we take," O'Malley said. "I believe that [the vote] is better for the body, better for the city and most importantly better for the taxpayers of the City of Boston."
Joining O'Malley in support of the raise were Boston City Council President Bill Linehan, Councilors At-Large Michael Flaherty and Stephen Murphy, and district Councilors Frank Baker, Salvatore LaMattina, Tito Jackson, Mark Ciommo and Timothy McCarthy.
Voting against the raise were Councilors At-Large Ayanna Pressley and Michelle Wu, as well as district Councilors Josh Zakim and Charles Yancey.
McCarthy said although it is never easy to vote on pay hikes, the good and credible work of the legislative body merited a raise.
"In all the meetings I've had in my district, with all the people I've met with across the city, most people appreciate what we do and they don't begrudge us a periodic pay raise," McCarthy wrote in an email. "However, the way this issue is being handled has become offensive to people. It is time to move forward."
Wu, who voted against the city council pay raise, said it was more important to focus on taking legislative action.
"I was a 'no' because I think the system is wrong," Wu wrote in an email. "We should not be picking a number and voting on it. I want to change the system before we address any salary number. I want to see people talking about what we have done or should be doing policy-wise to help families in Boston."
The vote took place in the last 10 minutes of the meeting that lasted less than an hour.
In September, Linehan proposed an ordinance to raise councilors' salaries $13,000 from $87,500 to $100,500, but the matter was deferred to committee.
It has been nine years since the council received its last raise, which was an increase of 16.7 percent. In 2014 , Walsh vetoed the council's decision to give itself a $20,000 raise that would have put their salaries at $107,500.
Several residents said they disapprove of the pay hike.
Sarah Min, 19, of Beacon Hill, said the pay raise was not entirely justified, despite the council's political power.
"It sort of seems like an abuse of their own power," she said. "Just based on the fact that they don't have a sound reason to raise their own pay and they have a power to control how much money they get doesn't seem okay."
Joseph Paul Gerdt, 30, of Brighton shared the sentiment, saying he saw no reason to put the raise up for a vote.
"I don't see why the vote mattered much then," he said. "I do think that the people should vote on the matter, the public should get a say, and there should be a consensus. But I guess if we don't like this, then we won't vote on them next time."