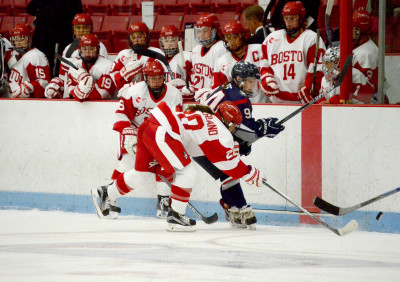 The Boston University women's ice hockey team has strengthened its forward corps of the future, earning a commitment from 17-year-old Canadian Tasza Tarnowski, according to CBC News.
The Embrun, Ontario, native will join the Terriers for the 2016-17 season on a full scholarship.
Tarnowski has already built up a resume, which includes playing for Team Canada's National Women's Under-18 team. She currently skates with the Ottawa Lady Sens junior hockey team of the Provincial Women's Hockey League.
In eight games this season, Tarnowski has accumulated four assists.
A member of the Lady Sens since the 2013-14 season, she has progressed each season, going from eight points (one goal, seven assists) in her first year to 20 points (seven goals, 13 assists) a season ago.
Tarnowski's play in the PWHL got the attention of Hockey Canada, who invited her to a National Women's Under-18 selection camp in August. Following the camp, she was given the honor of playing against Team USA in Lake Placid, New York, later in the month.
This week, Tarnowski will represent Team Ontario at the Women's Under-18 Championship in Huntsville, Ontario.
She will join the Terriers at an important time, as BU coach Brian Durocher's squad graduates eight seniors after this season, five of whom are forwards.
Two of the team's top six scorers, Rebecca Russo and Kayla Tutino, will graduate in May, but look for Tarnowski to lessen the void left by the two wingers next season.