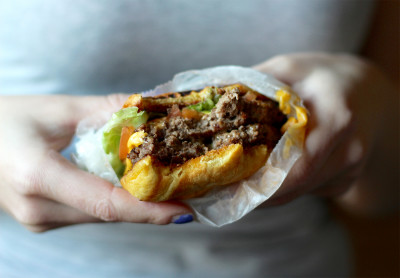 In the wake of a recent World Health Organization report that linked processed or red meat to cancer, leaders of Boston's local meat market said their consumer base isn't as concerned about the findings as some may have predicted.
"A few customers have asked us [about the report], but it's increased interest, if anything," said Charley Cummings, who works at the Carlisle-based company Walden Local Meat. "There's a huge difference between a cow that's grass-fed and never been given synthetic chemicals of any kind and an industrial feedlot animal. The products that we're selling are focused on the health and well-being of the animals, so that creates a healthier end product for the families."
In the WHO report released Oct. 26, a panel of experts determined that eating processed meat increases the risk of colorectal cancer, and red meat increases the risk of pancreatic and prostate cancer. As a result, processed meat has been classified by the International Agency for Research on Cancer as a Group 1 carcinogen, grouping it with substances like tobacco and asbestos.
In a Q&A component of the report, researchers clarified that its classification does not necessarily mean eating meat is as dangerous as smoking cigarettes, but it still poses the threat of cancer.
Several of Boston's meat-related business owners said they do not take the report very seriously. But for some consumers, the report could be a wake-up call that makes them re-evaluate where their meat comes from and the process it undergoes before reaching their plates.
Cummings said the findings in the report, however, may fade away as time goes by, like many other nutrition-related discoveries.
"Nutritional trends come and go," he said.
In addition to newer stores like Walden Local Meat, which opened about two years ago, there are many long-time family-run businesses in the city that thrive on Boston's meat markets, especially in the North End.
Franco Susi of Sulmona Meat Market in the North End said even before the WHO report, people began changing their eating habits to eat less processed and red meat. Susi said the neighborhood has gone through a lot of change since the market first opened 60 years ago.
"This business has been running for 60 years, and now, it's run by the third generation," he said. "A lot of people have moved in and moved out of the North End in the last 60 years. When you had a lot more families here, people ate a lot more meat. Now, it's more popular to eat chicken or poultry."
Susi said despite the decrease in meat sales, he does not foresee the report profoundly influencing his business any time soon. Though the WHO report warns against all red meat, he said his customers can rest assured that his products are prepared as naturally as possible.
"The only things that we sell that have nitrates are the hot dogs," Susi said. "Everything else, like our sausages or chorizo, is flavored with salt and pepper."
Some meat business workers, however, have seen health scares affect business in the past and they know it could happen again.
Clemente Palmariello, a butcher at McKinnon's Meat Market in Somerville, said the stigma around the health of meat has changed drastically in the past several decades.
"In the 1970s, this happened too, and they created a new slogan for beef," he said. "They started broadcasting messages saying that beef is good for you."
Palmariello said he wouldn't be surprised if the report affects business, but for now, business owners just need to advocate for their businesses and hope the negativity passes from the public's eye.
"Of course, the report affects our business, but it's still too early to know how," he said. "The national meat organizations haven't done anything about it yet. By next year, the meat association might donate a few million dollars to the [American] Cancer Society. That's what it's all about — the money."