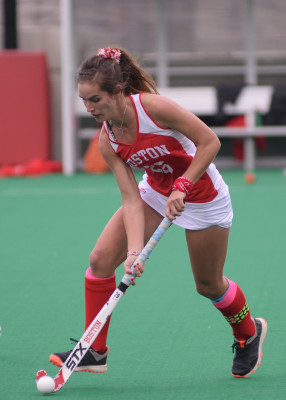 Capping off a conference title-winning campaign, the No. 14 Boston University field hockey team garnered a multitude of individual honors from the Patriot League on Tuesday.
Leading the way were senior back Rachel Coll and senior midfielder Sofi Laurito, who earned Patriot League Defensive and Offensive Player of the Year awards, respectively. Picked as the preseason Players of the Year, Laurito and Coll lived up to their billing as the premier duo in the conference.
For Laurito, the recognition gives her the second such award in as many years. Laurito proved herself as the heart of an explosive BU (12-6, 6-0 Patriot League) offense for a second consecutive season when she totaled career-highs in goals (11) and points (25). Named to the Patriot League 25th Anniversary Team on Aug. 13, Laurito closed her last season in the scarlet and white with eight points in three matches.
"I truly believe she's one of the best players in the country," said BU coach Sally Starr of the Buenos Aires, Argentina, native. "She's got that fiery temperament, which can be an attribute for you being really successful. She's really controlled the negative side of that this year. … She's been a great leader for the team, a hard worker and that fiery ability to be dangerous on the ball, that's part of her persona. She's just an outstanding attacking player for us and also a defensive player for us."
"She's been huge for us this year," Starr added. "For her to receive that award, it's tough to get it as a junior, and then it's tough to get those accolades preseason [because] that puts some pressure on you."
On the other side of the field, Coll, a native of Greymouth, New Zealand, commanded a Terrier back line which allowed a Patriot League-low 35 goals in 18 contests. The captain finished the season with 15 points, good for fourth on the team, and notched two goals against Bucknell University on Senior Day (Oct. 24).
"What helps us so much is just her calm," Starr said of Coll. "She reads the field well, she reads the game well and she really stays poised and calm. … I say a lot of times that defending in your defensive third is 'organized chaos' often and the quicker you can organize your chaos, the more successful you can be. She's really good at that."
Coll and Laurito's fulfillment of lofty preseason expectations has impressed their coach.
"I'm just really happy for both Sofi and Rachel, that they've been able to come up with the preseason projection that people had for them," Starr said.
Joining two of her top players on the podium, Starr received her seventh conference Coach of the Year nod after guiding the Terriers to their first unblemished season as members of the Patriot League. The NFHCA Hall of Famer took BU to its 13th regular season conference title and its 23rd top-20 finish in the national polls.
However, Starr said she feels that the award should be rebranded to recognize the efforts of her coaching staff as a whole.
"I strongly believe that the award really should be Staff of the Year," Starr said. "I'm not saying that to trivialize it at all. … I'm going to really fight for the conference to change it because I know a lot of sports do make it [Staff of the Year]. There's no way this team would have half the success we have right now without the hard work that both [associate head coach] Sarah [Shute] and [assistant coach] Tracey [Paul] have done."
A number of Terriers were honored with All-Patriot League Team recognition. Along with Coll and Laurito, junior midfielder Hester van der Laan made First Team All-Patriot League for the second year in a row thanks to an 18-point season.
Meanwhile, junior forwards Taylor Blood and Amanda Cassera represented the Terriers with Second Team All-Patriot League honors. Cassera didn't quite match her 32-point 2014 campaign, but she did come away with Second Team hardware for a second consecutive year. Blood took home her first Patriot League trophy with the Second Team nod after breaking out to the tune of 11 points in 16 starts.
"Taylor's having a great year and we've missed her in the last two games, where she's been [out] with a concussion," Starr said. "We're hoping to get her back on Friday. We're not sure, but we're hoping to get her back.
"She absolutely epitomizes what you want in an athlete with a hard work rate," Starr added. "She really competes, demands of herself, she has a really high standard for herself and she holds a high standard for her teammates as well."
One prominent name was absent from the Patriot League honor roll: junior back Bea Baumberger Altirriba. Despite a season full of career-highs in points (24) and goals (5) as well as a Patriot League-leading 14 assists, voters left the Spanish National Teamer off their list of conference greats.
According to Starr, while Altirriba was deserving of acknowledgement, she said Altirriba understands how much her team needs her, which is more than enough acclaim for her.
"The entire First Team can't be made up of all BU people," Starr said. "She's on a team that has a load of talent. She's been outstanding for us and she knows what she means to this team and she knows she's a really key player for us. When she plays well, we play well.
"When the voting happens, they can't put an entire BU team onto the first and second teams, unfortunately."