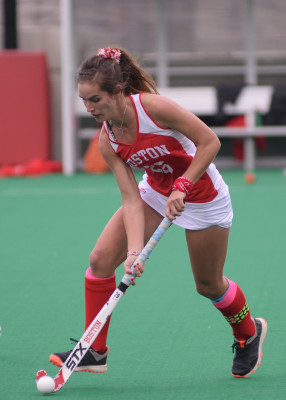 It suffices to say the No. 14 Boston University field hockey team's Patriot League Tournament semifinal rematch against Bucknell University did not go the way the Terriers had hoped, despite earning a 3-2 win.
"We watched a lot of first round games yesterday — America East games, ACC games, Big Ten games," said BU coach Sally Starr, "and in a lot of those, the high seed struggled. At halftime, I said, 'What's happening to us now is no different than what happened to a lot of teams yesterday.' The high seeds, a lot of times in these tournament situations, come out a little soft."
"I said, 'We'll just do what we need to do in the second half.'"
Senior midfielder Sofi Laurito broke a 1-1 tie less than 10 minutes into the latter period, her second of three goals on the day. Coming into the game with a 10-0 record when leading after the 45th minute, BU's (13-6, 6-0 Patriot League) second-frame blow looked to seal a victory.
But the Bison (8-11, 3-3 Patriot League) would not go down quietly, scoring a late goal of their own in the 67th minute to send the game into overtime.
The Terriers and Bison battled for another 20 minutes after regulation to determine a winner. Laurito finally sent Bucknell packing at the 90 minute mark with her third successful backhand strike of the contest.
However, for Starr, her team's "survive-and-advance" mentality must change as the postseason progresses.
"We can't give up a goal in the last five minutes of a game, in a tournament game," Starr said. " … You're going to come out a little flat sometimes, you're not going to be ready to play, but giving up a goal in the last five minutes, we have to protect that lead, we have to play smarter and we have to play better. I really want to look at that to see what happened."
Perhaps expecting the Bucknell team which they defeated 6-0 during the regular season, the Terriers got off to a sluggish start Friday. The Bison capitalized with a 19th-minute tally off the stick of defender Emily Goodloe.
BU answered back less than one minute later when Laurito took advantage of a quick restart and netted a deflection off a Bucknell defender's foot.
Despite an even scoreline, BU's performance through the first 35 minutes left much to be desired.
"I just felt we were reactive [in the first half]," Starr said. "I always talk to the girls about playing proactive, anticipating hockey. I really felt in the second half we played much better, much more up-tempo, much more attacking hockey."
The Terriers ramped up the pressure coming out of the break and pestered the Bucknell defense in its own zone. They racked up seven shots during the second half and forced Bucknell goalkeeper Emily Finn into difficult save situations. Yet, Finn avenged her Oct. 24 performance against BU, and came up with key saves to keep the Bison within striking distance following Laurito's second score.
"She played a great game," Starr said of Finn. "She had to make some great saves. She struggled a little bit here two weeks ago, but I have to hand it to her, she was really ready to come out and keep her team in the game, and that's what she did. She gave her team an opportunity to win today with great goaltending."
In the 67th minute, the Patriot League's leading scorer Kiersten Sydnor made the most of Finn's effort when she knotted the game at two off a penalty corner.
With the game seemingly destined for overtime, BU earned its own penalty corner less than two minutes later. Junior midfielder Hester van der Laan received the ball after an initial save from Finn and nested it into the top shelf. However, after conferring, the referees disallowed the potential game-winning score.
"It's just tough when you get some inconsistent calls," Starr said. "Hester's goal, to make it 3-2, should have been a goal. … This would be really a difficult game to swallow if that was ultimately a game-changer."
After killing off an early penalty, the Terriers dominated possession during overtime. They locked down on defense and nullified a crucial Bucknell penalty corner. In the attacking third, BU strikers buzzed and logged quality chances, but did not find twine until a second overtime period.
In the 90th minute, Laurito took the ball at half-field and made a skillful run into the offensive zone. After some jostling between BU strikers and Bucknell defenders, Laurito received the ball at the top of the half-circle and ripped the decisive shot past Finn and into the net.
Laurito became the fourth player in Patriot League Tournament history to record a hat trick, and the first to accomplish the feat since 2009. The NFHCA All-American has accumulated 14 points in the Terriers' last four matches.
"She's a two-time Offensive Player of the Year, as a junior and now as a senior, and you can clearly see why," Starr said of Laurito. "She can play the game, she's a game-changer, but I'm so pleased for her [because] this is a big game. It's her senior year and she was really able to come out and just play calm, play poised and bury three great goals for us."
Although BU held a 21-4 shot advantage for the game, Finn and the Bison impressed Starr with their poise. However, Starr also took pride in her team's resilience.
"It was a battle and I really congratulate Bucknell," Starr said. "They gave us everything we could handle. … But I have to commend [our] team. It was a battle, it was a struggle, but we found a way to get the W today and it was not easy."
With their win, the Terriers move on to the Patriot League final and will face American University for the conference title.