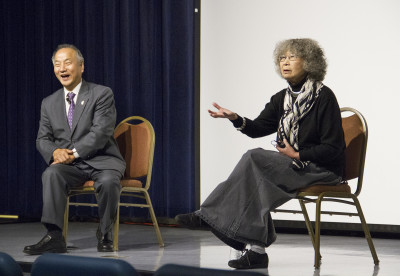 In the documentary "People are the Sky", filmmaker and writer Dai Sil Kim-Gibson returns to her birthplace in North Korea after the death of her Iowa-born husband Don. Kim-Gibson, with the goal of discovering what home truly means, finds a country where people live in peace and harmony.
By explaining North and South Korea's long political history and internal turmoil, Kim-Gibson said she hopes to alter people's preconceived notions about the communist-ruled country and emphasize the importance of home.
Mary Elizabeth Moore, dean of the Boston University School of Theology, introduced the film, which was screened to an audience of 80 in the George Sherman Union Auditorium Tuesday night and followed by a Q&A with Kim-Gibson herself. Moore spoke highly of Kim-Gibson, who received her Ph.D. from STH and the Graduate School of Arts and Sciences in 1969.
"[Kim-Gibson] is determined to bring the voices of the voiceless to the screen," Moore said. "She is determined to represent ordinary people and people who are often overlooked. And so she has attempted through her films to humanize the world."
The film opens with Kim-Gibson's personal account of life in Korea. Born in 1938, Kim-Gibson fled from the north in 1945, crossing the 38th parallel by foot with her family. Only 7 years old at the time, she said she recalls Korea gaining independence from Japan and the division of Korea between the Soviet Union and United States.
North Korea invaded South Korea on June 25, 1950, and Kim-Gibson said she remembers her house being bombed by American planes attempting to destroy a North Korean-affiliated building in her neighborhood. It was only after the war ended on July 27, 1953, that she left South Korea to study theology in America. Years later, she met the love of her life, Don.
And when Don passed away in 2009, Kim-Gibson was inspired to begin her next documentary.
"Don put the idea of, 'Where is home, what is home?'" she said. "It's not a place, but a person. Because when I started living in America, I did not feel at home in America as a country … but I felt right at home with this American, this person … When Don died, my home was gone. So I thought at that point, I [could] go back and see, explore my place of birth."
After going through a strict process to be allowed into the country, Kim-Gibson arrived in North Korea eager to interact with the citizens and visit her hometown. Due to strict censorship rules, the government provided her with a cameraman and several guides to lead her to specific monuments and people.
At one point during the film, Kim-Gibson approaches a group of schoolchildren and asks them questions. When she asks what they know about South Koreans or Americans, the group falls silent and she is scolded by the guide.
Despite being told to keep quiet on certain subjects, Kim-Gibson said she was determined to accurately represent the people of North Korea.
"I disobeyed guides, you saw me. When they said go to the left, I always went to the right," she said, drawing laughter from the audience. "When I was making this film, I really understood the phrase 'creative disobedience.' That's what I did from morning to night, 14 hours a day."
Unlike with her previous films, Kim-Gibson added a more personal touch to "People are the Sky."
"I stuck my neck into it, I participated, I searched for things with people," she said. "I was part of the movie … Making it personal made a lot of sense because there [are] a lot of views going on about North Korea, especially bad, demonized views so well done by mainstream media of the western world."
Xie Fei, first-year graduate student in the Frederick S. Pardee School of Global Studies, said her view of North Korea changed after watching the documentary.
"When I was watching this movie, I was thinking about North Korea, that there is nothing good about it, it's just some evil leaders and repression," Fei said. "After I saw this film, I feel [that] we don't really know about North Korea. Apart from the leaders, North Korea is a country where people live in great peace and happiness."
During the Q&A session, Korean-born Bishop Hee-Soo Jung from Wisconsin also reacted to the film. Jung, who recently returned from a trip to North Korea himself, was personally touched by the story.
"[The film was] really deeply engaging with the deep consciousness of a home, that becomes a narrative to all humanity," said Jung.
It is through the idea of home that Kim-Gibson built her narrative and established a positive view of North Korea. In reference to the film's title, and in the final sentence of the documentary, Kim-Gibson leaves the audience on a reflective and hopeful note: "People are home, not places. People are the sky."