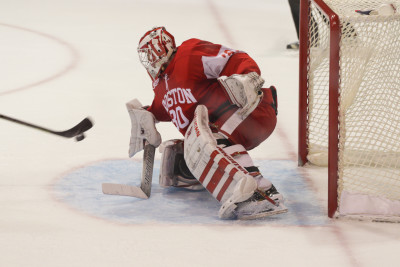 Matthews Arena at Northeastern University was playing some "pretty good tracks" on Saturday night, so when sophomore goaltender Connor LaCouvee saw just two shots during the opening period, he confessed he was "bopping" along to the music to keep himself in the game.
It was his first time starting back-to-back contests in his college career, and he was riding the energy from the No. 11 Boston University men's hockey team's Friday win over the Huskies (1-7-1, 0-3-1 Hockey East) into the latter half of the home and home.
His team was doing a nice job keeping the puck at the other end of the ice, outshooting Northeastern by an 18-2 margin and tallying a goal on the power play from senior captain Matt Grzelcyk.
Not a lot was happening down by LaCouvee.
Northeastern spent some time moving the puck around BU's (5-3, 3-2 Hockey East) zone, but didn't really throw much at the cage, collecting three total shot attempts.
"It doesn't seem like that, but sometimes those are the toughest games," LaCouvee said. "Maybe they get a breakaway or something, they score and it's the second shot, third shot you face. It can really change the face of the game for sure."
He added that it's nice to get a couple saves under your belt so you can build a kind of repetition, which is why not being tested can get tough.
In contrast, and like the night before, the Terriers were then outshot in the following two periods, and the backstop got to work. He turned aside 31 of the next 32 shots he saw and carried a shutout bid into the final minute of regulation. It took the Huskies that long to get a puck past him when freshman Adam Gaudette buried a rebound with 55.4 seconds left.
Going back to Friday's game when LaCouvee stopped all 19 Northeastern shots in the third period, the goalie's shutout streak lasted 83:09 and would have been 50 seconds longer save a delayed penalty that he was off the ice for to allow his team an extra skater.
"[I] definitely think I had a bit of extra confidence [from Friday] going in, but that being said, each game is a new game so you always got to be prepared," he said.
The key to keeping the puck from finding the twine then, was trying to reset before each period. LaCouvee smiled and admitted he probably didn't reset too hard in the second period of Friday's game, as he conceded four total goals, but on Saturday, he just tried to mentally focus. He knew to expect Northeastern to pressure after the way BU had gotten after its division rival in the first frame.
The netminder has now started three consecutive games for the Terriers and recorded wins in each. His performance in the end stages of matches has impressed BU head coach David Quinn, who cited LaCouvee's stalwart third period efforts in both Friday's game and the contest against the University of Denver on Oct. 31.
"I just felt like he's getting better," Quinn said of deciding to start LaCouvee in back-to-back nights. "… I just felt like he earned it."
The bench boss also expressed his disappointment that the team was unable to get its goalie the shutout for Saturday.
"That's really unfortunate," he said.
Going forward, LaCouvee, who bumped his save percentage up to .910, said he can aid the Terriers by being a good teammate, helping the guys out and being supportive in practice.
"Be a team player really, go with the flow, and who's ever playing Friday or Saturday, just keep going," he said. "Play hard."