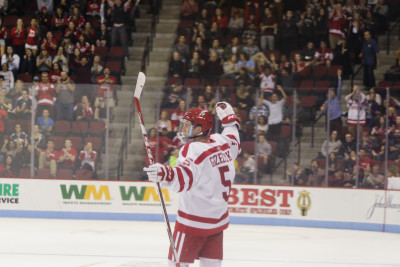 In his first game back after recovering from offseason knee surgery, Matt Grzelcyk made an immediate impact for the No. 11 Boston University men's hockey team.
It just wasn't the impact he or his team was expecting.
It had been seven months since BU's senior captain had suited up with his teammates and played in an actual game. He last donned the scarlet and white jersey in a heartbreaking national title loss.
So, as human nature usually has it, Grzelcyk might have been more than eager to get back out on the ice on Friday night against rival Northeastern University.
As head coach David Quinn put it, though, Grzelcyk was a bit too excited to get back to game action.
Eleven seconds into his first shift with the Terriers (4-3, 2-2 Hockey East) this season, Grzelcyk was called for an interference penalty. For two more minutes, he was again forced to sit and watch his teammates play without him.
"Took a penalty [11] seconds into his first shift," Quinn said of his captain. "I think that tells you how excited he was about playing."
But when his penalty was up, he got back to the bench and waited for another shift. And minutes later, he made the impact that his team was looking for out him.
Just past the 10-minute mark of the first period, Grzelcyk stood at the left point and caught a pass from his defensive partner, freshman Charlie McAvoy. Seeing a screen of forwards in front of him, Grzelcyk unleashed a perfectly placed wrist shot that beat Northeastern (1-6-1, 0-2-1 Hockey East) goaltender Ryan Ruck high glove side.
Unlike last year, where he did not score until Jan. 30 — 24 games into the season — Grzelcyk didn't have to wait as long to have a tally in the goal column.
One shot into his comeback, he had his goal. His night, however, was not over just yet.
With the game tied in third period, Grzelcyk was back on the ice looking to do some more damage. He was in his familiar spot at the top left of the point and did just that.
He spotted senior winger Ahti Oksanen open in front of the net and threw the puck down near the crease. The tape-to-tape pass all but set up Oksanen for a goal into a wide-open net.
Oksanen, who scored his third goal and second consecutive game-winning tally, said having Grzelcyk's presence back on the ice was a tremendous boost for the Terriers. Not only was his leadership missed, but his All-American talent was hard to replace.
"That was massive for us," Oksanen said. "He's all, he scored and made one great assist and just playing really great defensive game. We needed him back."
Grzelcyk finished the night with two points and two minor penalties, but his time back on the ice meant more than just statistics. He did add to the score sheet, but almost as important for BU, his skating was crisp, his passing was sharp and he made smart defensive plays, including one near the goal line that prevented a goal, which played a big part in the Terriers' win. Whatever rust was there, appeared non-existent.
It was almost all positives for the captain, but there was one stumbling block that caused a scare at the end of the contest. As Northeastern made a last-second rush in an attempt to tie the game, a puck caught Grzelcyk up high near the head and neck area as he was defending in front of the BU net.
He skated slowly to the bench after lying face-down on the ice for a little over a minute, but Quinn said after the game Grzelcyk was fine.
When it was all said and done, Quinn downplayed the last-second block and was just more focused on the positive of Friday's win — his captain is back.
"He means so much to us," Quinn said. "You can see it out there he's an incredibly talented player, he competes, were lucky to have him, we're certainly ecstatic that he's back."