The No. 11 Boston University men's hockey team certainly can't mind having its captain back. For the second night in a row, senior captain Matt Grzelcyk opened the scoring for BU in a 4-1 win over Northeastern University on Saturday at Matthews Arena.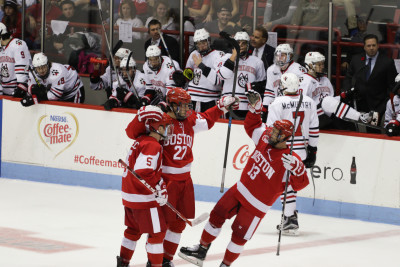 Grzelcyk got his second goal in as many games for the Terriers (5-3, 3-2 Hockey East), when his shot beat Northeastern goaltender Ryan Ruck high blocker side. In the two games since his return from offseason knee surgery, Grzelcyk has totaled three points.
"He obviously gave us a jolt of enthusiasm," said BU head coach David Quinn. "And you saw the impact he made all weekend."
Due to the spark of Grzelcyk and a stellar performance from sophomore goaltender Connor LaCouvee in the win, the Terriers earned their first Hockey East series sweep of the year and first road victory in 2015. The Huskies (1-7-1, 0-3-1 Hockey East), meanwhile, went winless for the eighth straight game.
Starting on back-to-back nights for the first time in his collegiate career, LaCouvee recorded 33 saves in the contest, including 18 third-period saves, and kept the Huskies off the board until the final minute of the game.
LaCouvee, though, was left mostly untested in the first period, as BU dominated Northeastern in shots in the first frame, with Northeastern's first shot not coming until 3:35 left in the period. The Huskies had just three total shots in the period, with only two going on net.
BU, however, had 18 shots on target in the first period, but went to the locker room with just Grzelcyk's goal on the board.
"I could sense a little bit of frustration in our locker room with only being up 1-0," Quinn said. "And obviously you knew they were going to have a bit of pushback in the second period.
"And they did."
Northeastern, indeed, dominated the shot total for the rest of the game, outshooting BU 32-16 in the final two frames.
Despite Northeastern's 13-7 advantage in shots in the second frame, it was BU that got on the board again. Junior defenseman Doyle Somerby swatted down a puck in midair in his defensive zone, then brought the puck up the ice himself and wristed in an unassisted tally at 13:54 and push the Terriers' lead to 2-0.
"That came off great defense," Quinn said. "Our defense was really good in that sequence and it allowed us to get a 2-on-1. And he buries it. We scored some goals this weekend off a good defense, in-zone defense, and if we're gonna go anywhere or have any success we've got to defend. And I thought we really made a step forward this weekend."
Somerby became the sixth BU defenseman to record a goal this season.
Despite LaCouvee's dominating performance throughout the game, forward Adam Gaudette finally got a goal back for Northeastern with 55.4 seconds remaining to break the shutout.
"Disappointing we didn't give Connor the shutout," Quinn said. "Just really ridiculous … it cost him a shutout."
Senior forward Ahti Oksanen and assistant captain Danny O'Regan added a pair of empty-net goals in the waning minutes, though, to wipe out any chance at a Northeastern victory.
With three straight wins now, after losing three of their first five, some of the Terriers said the winning pattern has started to make them feel more confident.
"Oh, that's awesome for us," LaCouvee said after Saturday's game. "I think we were kind of struggling a bit at the beginning there, and it's nice to string together a couple wins, get the guys rolling, get the boys having some confidence. It's always easier when you're winning.
"It's definitely nice to have the last couple games be wins, just keep that streak alive here."