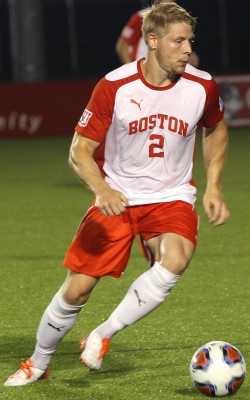 The Boston University men's soccer team concluded its regular season with a victory on Friday night against the United States Naval Academy, giving the Terriers the No. 2 seed in the upcoming Patriot League Tournament and a first-round bye.
"It's a credit to them," said BU coach Neil Roberts said of attaining the bye. "It's a young team, and they went at it every week. We didn't get every result we wanted, but we're pretty close to it and I think that they got better as the year went on."
It has been a successful season for the Terriers (12-4-2, 6-1-2 Patriot League), who came into this season with a bitter taste in their mouths following a disappointing end to their season last year. The Terriers finished last season with an 11-3-4 record heading into the conference tournament, and were unbeaten in league play (6-0-3). Behind Dominique Badji's stellar senior campaign, BU made it all the way to the Patriot League final against Bucknell University, but lost 3-2 in overtime, ceding an automatic bid in the NCAA Tournament to the Bison.
This year's team will look to avoid a similar fate, and despite being a young team, Roberts believes his team will be ready come Friday, and the week of rest is critical.
"It gives everybody time," Roberts said. "Nobody's really too banged up right now. It gives [sophomore midfielder Anthony] Viteri time to get a little bit fitter, just get back into the groove a bit, he's slowly getting there but he's not there yet. But it gives us time to work on stuff, that's the big thing. These kids are pretty good when they get a chance to train, so that's what we hope to do this week."
The Terriers await the results of two quarterfinal games this Tuesday to determine their opponent in the semifinal Friday in Hamilton, New York. They will play the highest remaining seed of the United States Military Academy/American University and Bucknell (7-6-5, 3-3-3 Patriot League)/Lehigh University games, with top-seeded Colgate University playing the lower seed.
Matt Gilbert, David Asbjornsson represent Terrier defense with awards
For a team that ranked third in the conference in goals per game with a 1.56 mark, the success of BU's defense can sometimes be overlooked.
This week, when the Patriot League announced its major yearly awards, it was careful not to short change the Terrier back line, recognizing two key members of Roberts' team.
Junior defender David Asbjornsson was named the conference's Defensive Player of the Year, and fellow junior Matt Gilbert received Goalkeeper of the Year honors.
Tallying just one point this season, much of what Asbjornsson does for the Terriers does not show up on the stat sheet, as he is one of the leaders in organizing a defense which orchestrated seven shutouts this season.
"David, obviously, that's not his position where he's been playing, and he's been very consistent," Roberts said. "He's made big tackles for us and he's done very well. I'm happy that he got recognized because a lot of times people don't realize we play three in the back, and it leaves the backs isolated."
In goal, Gilbert has had a phenomenal statistical season, finishing first in the league in saves (82) and saves per game (4.56), and he owns the second-best save percentage in the conference (.828).
"Gilbert has done a very good job as a leader as a goalkeeper," Roberts said. "He's been consistent and that's the good thing for him. His distribution overall has been pretty good, and he's done a good job leading the defense as well."
Anthony Viteri, Felix De Bona among BU attackers honored by conference
After losing Badji to the MLS, BU came into this year seeking to find an offensive leader and an identity on that side of the ball.
It did not take long for Roberts and his staff to realize that for this Terriers team to be successful, it was going to take a collective effort.
Twelve different players found the back of the net for BU this season, with junior forward Felix De Bona leading the way with 18 points (eight goals, two assists).
"Felix has come on really, really well towards the last part of the season," Roberts said. "He's been very steady, he's holding the ball for us and coming up with goals so it's been good for us."
Sophomore transfer Anthony Viteri stepped up in a big way as well, tallying 14 points of his own. Viteri missed four conference games due to injury, but when he was on the field, he proved productive.
"I thought Viteri was the best player in our conference by far before his injury," Roberts said. "Now can we get him back to that? By Friday night? Who knows, but he's got the chance to be a real special player so I'm happy that they recognized Anthony."
It comes as no surprise, then, that both players were acknowledged by the Patriot League for their efforts this season. De Bona and Viteri were named to the All-Patriot League First Team, while senior midfielder Richie Robinson and freshman midfielder Magnus Benediktsson were named to the Third Team.
In addition to Third Team honors, Benediktsson was named the conference's Rookie of the Year after finishing fifth in the league in assists with six.
If the Terriers are to advance in the Patriot League Tournament, look for a continued level of offensive balance from this group.