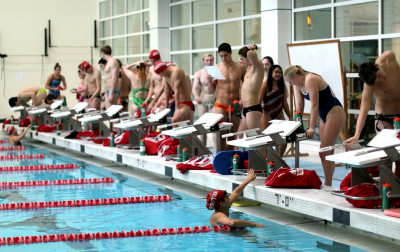 In their fourth meet of the season, the Boston University men's and women's swimming and diving teams had a busy Saturday, completing a sweep of Fordham University at the Competition Pool.
The men's team earned a 190-107 victory over Fordham, and additionally had 13 first-place finishes.
The men's day began for the Terriers with a victory in the 200 meter medley relay, where they finished with a time of 1:33.72, and concluded with 400 meter freestyle relay win with a time of 3:10.08.
In between, a number of BU swimmers had impressive days, with senior Mun Hon Lee having the most individual wins of any Terrier. The Melbourne, Australia, native took first place in the 100 meter backstroke (51.36), 200 meter backstroke (1:52.30) and 100 meter butterfly (50.73).
Junior Brian Habacivch later swept the sprint freestyles with victories in the 50 meter freestyle and 100 meter freestyle.
In the last of the individual races, sophomore Garrett Chin had a victory in the 200 meter individual medley with a time of 1:52.27. Despite not winning the 200 meter butterfly, he finished with a personal-best time in that race (1:48.87).
The women's team found similar success, coming in first place in 12 races.
Freshman Erin Nabney continued her undefeated streak this season by winning all four events in which she participated.
The United Kingdom native began the day as a participant in the 200 meter medley relay A-team that finished with a 1:45.65 time and a victory. She went on to claim wins in the 100 meter breaststroke (1:05.38), 200 meter breaststroke (2:20.53) and the 200 meter individual meter (2:04.41).
Four other BU swimmers won events on the day, with three winning multiple events.
Freshman Julimar Avila started the day with a victory in the 200 meter butterfly (1:02.80), during which she set a personal-best time, and capped it off with a victory in the 100 meter butterfly (55.90).
Senior Stephanie Nasson swept the long-distance freestyle events by winning the 1000 meter freestyle with a time of 10:14.39 and the 500 meter freestyle (5:02.92), and her classmate Mika Spencer won both the 200 meter freestyle and 100 meter freestyle.
BU returns to the water Saturday for the Alumni Meet, but will not return to competition until Nov. 20-22 when it hosts the Terrier Invitational.