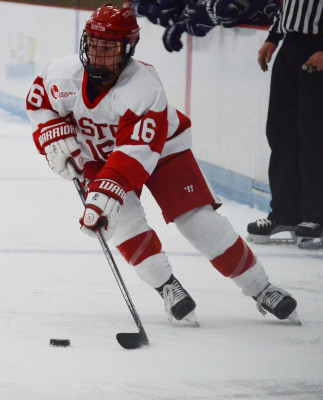 There are days in hockey when, despite a strong showing, the bounces just don't go your way.
In Tuesday evening's game at the Conte Forum, the Boston University women's ice hockey team learned this lesson the hard way, as it fell 4-3 in overtime to No. 2 Boston College.
Junior goaltender Victoria Hanson held her own between the pipes, the Terriers (6-6, 4-3 Hockey East) largely kept BC's (12-0, 6-0 Hockey East) potent offense to the outside and Eagle goaltender Katie Burt was more than tested. That was not enough, though.
"We're not playing for moral victories," said BU coach Brian Durocher. "There was a lot of good with that game, but it's a night you want to get out of there with one point if not two. We didn't do that, so it leaves us with a bad taste in our mouth and a little bit frustrated."
Eagle senior Alex Carpenter capped off some tic-tac-toe passing 1:10 into the contest, while classmate Dana Trivigno pushed BC's lead to two with 3:44 remaining in the period. Those were the highlights, but BC's three offensive lines, often joined by an onrushing weak-side defenseman, proved too much for BU.
Carpenter won the Patty Kazmaier Award last season and Trivigno has 100 career points, but Durocher still hoped for a better start from his team.
"It's real easy in this game to stand still and think you're going to pick off a puck," Durocher said. "To be the third person high and cheat over to stand even with a battle on the wall and think we're going to kick it forward [for] offense — all those things are taking chances."
Looking to change course, BU started the second period with a bang. After a slew of BC penalties, the Terriers found themselves with a 5-on-3 opportunity and their best flurry of offense all game.
Off a feed from freshman forward Sammy Davis, junior defenseman Sarah Steele cut the lead in half on a power-play goal with 11:30 remaining in the period. Riding a surge of momentum, the gritty work of senior forward Rebecca Russo suffocated Burt's goalmouth. Her backhanded shot was stymied, but junior forward Maddie Elia tied it up at two with just over three minutes remaining in the frame.
The back-and-forth nature of the game continued well into the third period, as the Commonwealth Avenue rivals traded early goals. Junior Kristyn Capizzano reclaimed the lead for BC just over a minute into the period, but BU's veteran presence answered right back.
In a 2-on-1 situation, sophomore forward Rebecca Leslie threaded the needle to Russo, who shifted onto her backhand and slotted a shot past Burt with ease.
"Rebecca Leslie, who is a wonderful player, took it wide and finds Rebecca Russo who had to really scoot up the left side with her speed and made a real poised play," Durocher said. "She didn't just bang it into the goalie, but pulled it from left to right and tucked it in and it's a tie game again."
The rivals were knotted at three at the end of regulation, and a 4-on-4 period of overtime beckoned.
The Terriers' praiseworthy efforts fell just short in the end. Carpenter, who leads Hockey East in scoring, slammed the game-winning goal past Hanson, ending BU's upset bid.
"We look like we're going down to the wire and maybe we can steal one, but credit to two great players, two Olympians," Durocher said. "They made a good play, stripped the puck, did a double pass and a great shot, and they got out of here winning the game."