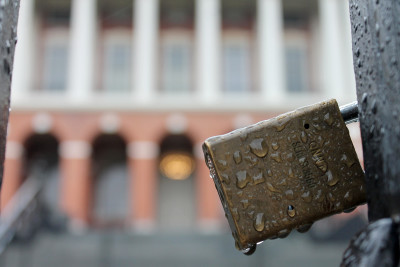 Those in support of reforming the state's public records laws await a hearing from the Massachusetts House of Representatives before the legislative session ends, as promised by Speaker of the House Robert DeLeo.
The bill is a combination of two identical bills filed by Sen. Jason Lewis and Rep. Peter Kocot, resulting in legislation with four main requirements regarding access to public records.
"This is an unfortunate area where we are not a leader," Lewis said. "We are, in fact, a lagger. We have not given this issue the attention that it deserves."
Lewis said the first provision in the bill is that public records must be available in a searchable, electronic format whenever possible.
"The public records law was originally written in 1973 [when] everything was in paper," Lewis said. "This is an example of where public records law is so out-of-date that it does not even address electronic records."
Government agencies must appoint someone in charge of public records requests, fees must be adjusted to be accurate and agencies must pay for attorney fees in cases challenging wrongfully denied records access, according to the bill.
"That's to respond to some of the charges we're seeing today that can be in the tens of thousands of dollars," Lewis said. "We have even seen fees of millions of dollars, which is just outrageous."
Lewis said the situation in the final provision is not expected to happen often, but would provide an incentive to government agencies to provide the records.
Sponsored by the Joint Committee on State Administration and Regulatory Oversight, the bill was referred to the House Ways and Means committee on July 16.
Massachusetts Secretary of State William Galvin filed a petition to place a ballot question regarding public records on the 2016 election. It was approved by Massachusetts Attorney General Maura Healey and is in the process of collecting signatures from voters by Dec. 2.
A report released Friday by the Center for Public Integrity gave Massachusetts an "F" rating for public records access, citing that information requests were not resolved in a timely manner and at no cost.
Fred Bayles, a professor of journalism in Boston University's College of Communication, said he is shocked by the state's inadequacy in dealing with public records detailed in the report.
"A lot [has] to do with the ignorance within the government about what they have to and they don't have to provide," Bayles said. "In the past I have asked for agendas and been denied when I was entitled to them."
The liberal nature of Massachusetts, Bayles added, is what leaves it behind other states in ratings. Reporters or members of the public "have to physically go through paper," which doesn't always happen in other states, he said.
Justin Silverman, executive director of the New England First Amendment Coalition, said public records legislation increase transparency, and should be highly valued for it.
"We need to know what our government is doing on our behalf and the only way to do that is to stay informed," Silverman said. "By having a strong public records bill, we're able to get the information that we need to hold our leaders accountable."
Several residents shared varying views about public access to government documents.
Clara Kang, 22, of Brighton, said although public records are not of particular concern to her, she was surprised to see Massachusetts' low ranking.
"I do not care that much, but it is really shocking because I thought Massachusetts is somewhere that's really liberal," she said. "It should be very easy for citizens to request documents from the government."
Jermaine McNeill, 37, of Dorchester, said the debate about public records is a difficult topic to make sense of.
"On one hand, it is the government, so everyone should have access to that information so that they can speak about it and speak accurately, and on the other hand, there is also some government information that should stay private," he said.
Regarding access to documents, McNeill said access to documents depends on the situation.
"To each his own," he said. "Unless it is pertaining to something that is really going to affect people in general, then maybe I would want to know, but if not, as a bunch of people aren't going to get harmed or hurt in a situation, I'm okay with some information staying private."
Link Axel, 30, of Dorchester, said people should have the right to know government information.
"People need to have access to information in order to be able to speak freely," he said. "Everyone should be able to know what is going on in the government."