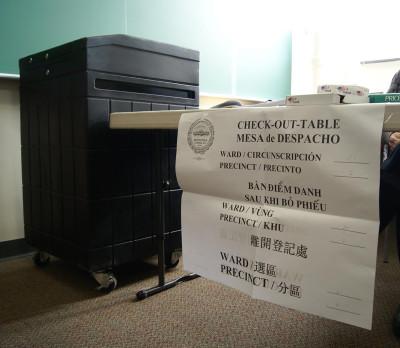 Hoping to increase voter turnout for the 2016 election cycle, a coalition of political advocacy groups looks to implement newly-ratified early voting laws throughout the state of Massachusetts.
The Election Modernization Coalition, which includes the Common Cause Massachusetts, the League of Women Voters of Massachusetts and American Civil Liberties Union of Massachusetts, gathered at the Massachusetts State House on Nov. 5 to announce the standards set by new early voting laws.
The law, signed by former Massachusetts Gov. Deval Patrick in 2014, will go into affect in 2016 and will allow voters to head to the polls up to eleven days earlier than Election Day. Towns and cities are also required to have at least one voting location open during business hours.
Pam Wilmot, executive director of Common Cause Massachusetts, discussed the importance of early voting.
"Early voting is one important step towards modernizing our elections. If implemented well, it will allow many people whose work or family obligations preclude them from standing in line or getting to a poll on Election Day an opportunity to vote," Wilmot said in a Nov. 5 press release. "It is already working well in 32 other states and will cut down on long lines during high turnout elections and improve the voting experience for many."
Going beyond reforms outlined in the law, the Election Modernization Coalition recommends providing multiple early voting locations based on a city or town's population, having at least one site available for every 35,000 people, evening and weekend voting hours and advertising about the early voting.
Advocates caution that implementing the new laws will not be enough to significantly increase voter turnout on its own, according to the release, because the size of each municipality matters.
"Early voting's success will depend on communities having evening and weekend hours available and, for cities and towns with populations over 35,000, more than one location to vote," Wilmot said.
Through the Early Voting Challenge initiative, the coalition will use a token system of gold and silver "medals" to indicate how well officials are integrating the new early voting days, according to the release.
"We're hoping our contest will encourage municipal officials to adopt our recommended standards for early voting," said Anne Borg, co-president of the League of Women Voters of Massachusetts, in the release. "If they do, we are confident it will not only benefit voters in 2016, but will make election administration more manageable as well."
Ileana Cintrón, a research fellow at the Center for Public Leadership at the John F. Kennedy School of Government at Harvard University, said the success of early voting days will be determined by the strategy city officials implement to inform their constituents of the new opportunity.
"Early voting will be great for families that have to work on Election Days. However the success of having early voting days depends on how well groups get the word out," Cintrón said. "There have been states where this has been successful, we just have to see how well it was implemented there and look for models."
Currently 33 states provide early voting days, according to the National Conference of State Legislatures.
States such as Wisconsin, Alaska and Iowa that provided early voting days during the 2014 election cycle saw higher voter turnout rates than states like New York, Pennsylvania and Delaware that provided no early voting days, according to the United States Elections Project.
The former states had voter turnout rates of 56, 54 and 50 percent, respectively, as opposed to 28, 36 and 34 percent for the latter three.
Rahsaan Hall, director of the Racial Justice Program for ACLUM, said the legislation will positively impact communities of color.
"Early voting has been proven to increase participation in communities with historically low voter turnout. Communities of color and neighborhoods with large concentrations of young people will greatly benefit from this change in the law," Hall said in the release.
Several residents said they support the initiative and hope it encourages more people to vote.
"We should make it as easy as possible to vote," said John Shafranski, 35, of Allston.
Dave Gettleman, 51, of Allston, said voting should be limited to a number of days instead of an extended period of time because people may lose interest in the election. Despite that, he said voting in general should be easier.
"It should be as easy as possible for people to have the ability to vote," he said. "Whether that is a couple days could be great, but I don't think it should be an extended period of time, like two weeks. Whatever makes it easiest for us."