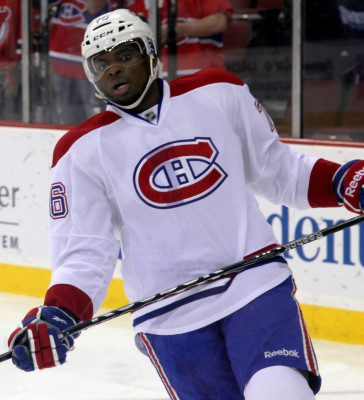 This week, the University of Missouri football team publicly stated via Twitter that it would stop participating in all football-related activity until university president Tim Wolfe resigned.
Early Monday morning, it was reported that Wolfe did indeed step down along with Chancellor R. Bowen Loftin. These actions came as a result of repeated racial incidents at the Columbia, Missouri-based university that, according to Mizzou's Legion of Black Collegians, Wolfe did not adequately respond to. Standing up for social justice on campus, these athletes, along with coach Gary Pinkel, add their names to a long list of those who have done the same in the name of tolerance and human rights.
The topic of athletes voicing their opinions on political and social issues has caused a lot of controversy over the past few years. For example, when one of Donald Trump's "Make America Great Again" hats was spotted in New England Patriots quarterback Tom Brady's locker, the media and fans alike joked about the two's apparent friendship. However, when five players for the St. Louis Rams walked onto the field with their arms raised as a silent protest of the shooting of Michael Brown in Ferguson, Missouri, many throughout the country chastised the collective, claiming that they should simply play football and leave politics alone.
Yet, those who criticized Stedman Bailey, Tavon Austin, Jared Cook, Chris Givens and Kenny Britt for their actions fail to see the good that comes around when athletes take a break from being athletes. Being a focal point in the public eye, athletes have the duty to be role models for all of those watching, specifically children. While there have been a myriad of those who have failed to uphold those standards, such as former Washington Wizards guard Gilbert Arenas, Los Angeles Kings defenseman Slava Voynov and Dallas Cowboys defensive end Greg Hardy, there are many that do so much good for their respective communities, and the world as a whole.
In early September, Montreal Canadiens defenseman P.K. Subban gave $10 million to Montreal's Children's Hospital, a donation that will be dispersed over the span of seven years. During that time period, Subban will also work with the hospital through his new fund, "P.K.'s Helping Hand," which provides economic aid to families of sick children. The goal is to focus all of the family's time, energy and resources on the sick child, nixing worries about how they are going to afford the hospital. From a man who just inked a deal worth $72 million over the next eight years, the donation sets an example for all those with a surplus of wealth to give back.
Recently, Louisiana State University running back Leonard Fournette auctioned off his game-worn jersey in an effort to provide economic aid to the victims of severe flooding in South Carolina. Early Monday morning, Darren Rovell of ESPN reported that Fournette's purple and golden clad No. 7 sold for a record $101,000, all of which went to humanitarian efforts.
While Fournette's gesture is a main focus of the general public, athletes continue to help their respective communities even when the camera is off. The Boston Red Sox have continuously worked with The Jimmy Fund, a charity that helps raise money to support adults and children as they undergo cancer treatment. Since 1953, when then-owner Tom Yawkey made the Jimmy Fund the official charity of the Red Sox, the team has been a part of the fight against cancer. They do so by promoting events, auctioning off their own memorabilia for the charity and visiting patients.
Many other teams have similar ties with local charities, such as the New York Knicks and The Garden of Dreams, which aids children facing obstacles in their lives. The New York Rangers also work with the same organization. Other teams, such as the Chicago Bulls, hold specific nights in which they recognize charities and charitable causes and donate money to the group. Specifically, the Bulls, coming from a city that suffers from an epidemic of major gun violence, partnered up with the Magellan Corporation and played host to Violence Prevention Night at the United Center.
It seems as if we cannot turn our televisions on without seeing the images of a smiling child posing with their favorite athlete in front of a Make-A-Wish banner. The foundation, which provides children fighting cancer with the opportunity to meet whomever they want, works frequently with professional athletes. Images from Desmond Howard welcoming Stephen Loszewski, a former football player diagnosed with leukemia as a high school freshman, to the Big House, to Gabby Douglas teaching Amarissa Mauricio, a 13-year old girl suffering from systemic lupus, how to walk on the balance beam, fill our television screens and our hearts.
It is because these athletes are on such a big stage that they must bring attention to areas of injustice or need. While many allow fame and fortune to twist and warp their sense of right and wrong, those that draw the rest of the seemingly unaware world to an issue of grave importance truly use their gifts to better serve the public.