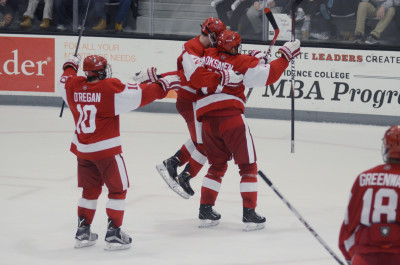 PROVIDENCE, Rhode Island — With under two minutes remaining the the third period, the No. 11 Boston University men's hockey team found itself down a goal to top-ranked Providence College.
But, as senior winger Ahti Oksanen put it, there was no downtrodden feeling among the Terriers. No, there was a confidence that a tying goal would be scored. It would have to happen.
In his mind, there were higher beings at play.
"We knew we would get one back," Oksanen said. "We knew that the hockey gods would give us just one goal."
Whether it was a deity or just pure hockey skill, the Terriers (5-3-1, 3-2-1 Hockey East) did get the goal back that they needed, courtesy of Oksanen.
He drove a sailing puck high into the net with 1:29 remaining in the third period. It not only gave BU an important late goal, but it also got the Terriers a 1-1 tie against an undefeated Providence (6-0-2, 0-0-1 Hockey East) team.
The Terriers continued an unbeaten streak of their own, now having come away with at least one point in four straight games.
To head coach David Quinn, this game in particular felt the most impressive of all during this recent stretch. Especially in a game that was a rematch of last year's national title game, Quinn said he was proud of his team's focus and how well the Terriers played throughout.
"Just an unbelievable hockey game," said Quinn. "It felt that way standing behind the bench, I don't know what people felt in the stands or in the press box, but that's as hard fought a game as you'll see in any month, let alone November."
Right from the get-go, it was as evenly a matched game as you could expect between two conference foes. The teams combined for 20 shots on goal in the first period, but none got past either goaltender.
Sophomore netminder Connor LaCouvee, making his fourth consecutive start for BU, stopped all eight shots in the first. For the game, LaCouvee made 32 saves.
"I thought he was outstanding," Quinn said of his netminder. "I thought he built on what he did during the Northeastern weekend, and he made some big saves as both goalies did."
Back and forth the teams went to start the second period, as both LaCouvee and Providence goalie Nick Ellis traded saves. But LaCouvee couldn't save everything in front of him.
After a scrum behind the Providence net, senior assistant captain Danny O'Regan and freshman center Jakob Forsbacka Karlsson were sent to the box for roughing penalties. On the ensuing power play, the Friars broke through.
Senior Mark Jankowski found the puck in the right circle and had a clear chance at net with no BU defensemen in front of him. He wristed a shot top shelf over LaCouvee's left shoulder at 13:24 of the period.
The roughing minors were part of a string of penalties BU took between the second and third periods as the game got both tense and chippy. In the third period, BU was forced to endure two different situations in which Providence could've have broken the game open.
The Terriers played down two skaters for two minutes when senior captain Matt Grzelcyk and freshman defenseman Charlie McAvoy each took boarding penalties. Three minutes later, BU had to play without a skater for five minutes, as McAvoy was given a five-minute major and game misconduct for a hit to the head.
Despite all the time on the kill, BU worked off all of the third-period penalties and kept the score within striking distance. As Quinn referred to it, the success of the penalty kill and defense was a "huge accomplishment."
As time wound down in the game, though, after all the hard work BU had done to work off the penalties, the Terriers were still on the wrong side of the scoreboard.
But as LaCouvee went to the bench for an extra attacker, the Terriers finally came through. Off a faceoff in the PC end, Oksanen took a loose puck in the left circle and roofed a shot high over Ellis. According to Oksanen, it was a play BU had set up before the draw.
"We had a plan what we wanted to do off the faceoff and all three guys — [freshman center] Jakob [Forsbacka Karlsson], [senior assistant captain] Danny [O'Regan] and [freshman forward Jordan] Greenway — got their man and puck just happened to bounce to me and I had a clear lane to shoot the puck and when it hit the post, I was sure it was coming back out but thank God it went in, and yeah, it felt good."
To steal a point on this night against a national powerhouse and rival like Providence said a lot to Quinn about his team.
"We're not going to play a team that plays harder than that, that's for sure," Quinn said. "And to be able to match that and to will a point tonight, I don't know if I've ever been prouder of a team, that was, excuse my language, that was a nutsy point."