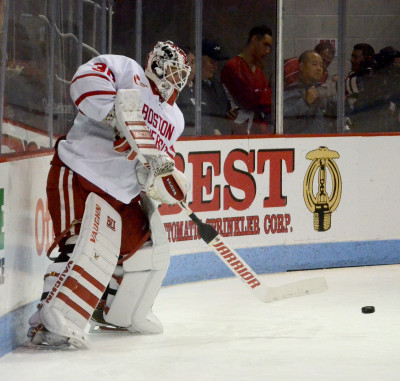 When the No. 11 Boston University men's hockey team faces No. 1 Providence College for a home-and-home series on Friday and Saturday, the immediate instinct, arguably, is to view the weekend as the ultimate rematch.
Without question, most BU fans remember the last time the Terriers (5-3, 3-2 Hockey East) faced Providence (6-0-1, 0-0 Hockey East): the 2015 national championship game. BU held a 3-2 lead at the end of the second period of that game on April 11, but a misplayed puck by then-junior goaltender Matt O'Connor allowed Providence to tie the game, then the Friars took the lead shortly thereafter. The Terriers lost the game, 4-3.
But that was last year, with a different team, and on a different stage. Now, the Terriers face a still-tough test in one of the nation's best offenses in Providence, and will look to extend its three-game winning streak.
"We have a lot of respect for them," said BU head coach David Quinn. "This is a team that's the No. 1 team in the country, they're undefeated and that's enough motivation for anybody. I understand that everyone's going to talk about the rematch, but we're not thinking about that. We're thinking about getting valuable points in Hockey East."
Providence leads all of Hockey East in offense this season, averaging 4.57 goals per game. Defenseman Jake Walman leads the Friars with his 12 points (seven goals, five assists), while seniors Mark Jankowski and Trevor Mingoia have 10 points apiece.
"Honestly, I don't worry about that stuff," Quinn said. "To me, it's about us continuing to do what we've been doing. … It's not so much how we're going to focus on shutting them down, it's going to focus on continuing to defend the way we have been.
"It's more about how we're going to play and how we're going to defend, as opposed to how we're defending."
Goaltender Nick Ellis, who has taken the reins in net for former Hockey East All-Star Jon Gillies, has posted a 2.18 goals-against average and a .920 save percentage in six starts this year.
The Friars have not played a game since Oct. 31, and this weekend will be their first Hockey East competition of the year. The Terriers, meanwhile, are looking to continue their success, with a sweep of Northeastern University coming most recently on Nov. 6 and 7.
Sophomore goaltender Connor LaCouvee had a stellar performance in BU's 4-1 win at Northeastern (1-8-1, 0-4-1) on Nov. 7, recording 33 saves in a near-shutout, before allowing the Huskies' solitary goal with 56 seconds remaining.
The performance boosted LaCouvee's save percentage on the year to .910 and lowered his goals-against average to 2.80. It also earned him the start for Friday night's away game at Schneider Arena.
"He looks bigger, he looks more confident," Quinn said. "He's made some big saves. He's more aggressive, which has allowed him to make the key saves he's had to make."
On the back of senior captain Matt Grzelcyk's return after offseason surgery, in which he scored three points in the two games against Northeastern, add in the increased offensive presence of senior forward Ahti Oksanen, who has six points over the past three games, BU has started to find its footing — and Quinn said the team's goal is to keep building on that momentum.
"I think we're feeling good about the way we're playing," Quinn said. "We're certainly playing a lot better than we did two weeks ago. The thing we have to keep focusing on is to keep getting better.
"Obviously we're going to have a great test this weekend, but we've really made some great strides."