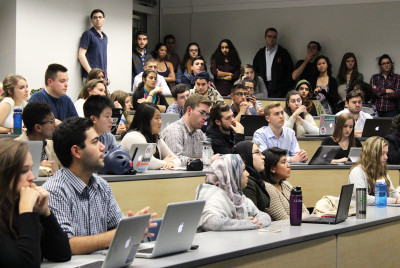 With the removal of two members of the Boston University Student Government Executive Board from office following an impeachment trial Monday, SG aims to look forward and continue with its ongoing initiatives, SG leadership said. SG President Andrew Cho said he will propose names to fill the vacancies in the Vice President of Finance and VP of Internal Affairs positions at the next Senate meeting.
"I have not decided who I'm choosing yet, but that's what I'm preparing for," Cho, a senior in the College of Arts and Sciences, said after a cabinet meeting Wednesday.
Article I, Section IV of the SG Constitution states that, "Should any directly elected Executive Board office other than the President be vacated, the president shall appoint a replacement," with proposed names requiring confirmation by at least two-thirds of the Senate to step into office.
Kimberly Barzola and Marwa Sayed were impeached from their positions as VP of Finance and VP of Internal Affairs, respectively, due to the failure to fulfill their constitutionally mandated tasks Monday, according to a complaint that made its way to the Senate floor.
Cho said the Executive Board and members of the cabinet were "very hurt" by the impeachment, but are coming together to restore students' faith in SG by "clearing up the air, ending all the negativity" and increasing presence within the student body.
"[Students] want to see partnership and see us move forward even though it's very sad for all of us," Cho said. "I have not talked to most of [Senate] but from those I have talked to and from just my opinion, I believe that they want to be respected in all this. I do not agree with their decision but I will respect it because that's what they said and we'll move forward."
Cho also said that the relationship between the cabinet and Senate "is very damaged" and he is planning to have a joint meeting during Senate that will allow E-board "discuss with [Senate] on moving forward."
SG Chief of Staff Akiko Endo said that in a meeting Wednesday, officials talked of ways E-board will move forward and that SG has not stopped working.
"I hope that we can fix the transparency," Endo, a junior in CAS, said. "I hope that we can become better representatives of the student body and listen to what they have to say and just be a productive Student Government that we actually can be."
Addressing some differing views as to the reasons behind the impeachment, Judicial Commission will not make changes to the laws, Judicial Commissioner Timothy Geraghty said.
"There will not be any amendments added to the Constitution," Geragthy, a senior in the College of Engineering, said. "The system we have in place already works. We do not need to change it."
Several students expressed mixed views on the impeachment proceedings and SG as a whole.
Yashaa Duggal, a sophomore in the College of General Studies, said she disagreed with the impeachment and suggested in the future, Senate give notices to E-board beforehand if they are not performing properly.
"If someone knows that they're going to be impeached or if they weren't doing their duties or fulfilling their responsibilities then they would've changed something," Duggal said.
Nicole Wheatman, a sophomore in CAS, said that impeachment was necessary.
"I think that they weren't doing their duties as Student Government members," she said. " … They're obviously not fit for that position and shouldn't be leading our Student Government."
Emily McClure, a senior in CAS, said SG should tackle the repercussions within the student body the impeachment has caused.
"Student Government should probably try to deal with the uproar from the student body a little bit," McClure said. "[SG] should figure something out with that."
Kyler Sumter contributed reporting.