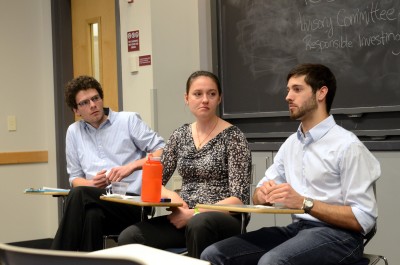 Collegiate divestment programs are inherently "designed to fail," a report by the National Association of Scholars released Tuesday argued.
Rachelle Peterson, director of research projects at NAS and author of the "Inside Divestment" report, said NAS' report was the cumulative result of years of research. To research collegiate divestment involvement, Peterson said, the NAS visited countless colleges and universities and researched what divestment decisions students would like at schools that had pledged to divest.
"Much of the data [in the report] is brand new and unreported elsewhere and it draws from a breadth of a movement," she said. "We examined every single American college and university that has pledged divestment and requested interviews with people at each one of those institutions, with the exception of two possibly three colleges where someone in their administration declined to comment."
Peterson said NAS has found that approximately only 30 American colleges and universities have made the decision to divest out of more than 4,000 in the country, and only about 50 percent of collegiate investments in fossil fuel are removed after divestment missions.
Divestment movements are designed to elicit a political response and generate momentum, she said.
"[Movement and momentum] are not immediate results of a campaign aiming to divest, so they're indirect," she said. "And because of this political aim, it's why the National Association of Scholars is concerned about the movement and believes that getting the appropriate decision for colleges and universities to ally itself with an openly political cause."
Although Boston University was not one of the universities closely examined in the report, Peterson said student groups advocating for divestment on university campuses exist to share their point of view.
"Those advocating for divestment should respect those who disagree with them, should be willing to engage in civil debate and dialogue," she said. "The role of a university is to teach and to pursue the truth and to foster knowledge. It's unfortunate that the divestment campaigns have polarized their campuses and turned questions of environmental policy into simple 'yes or no,' 'us or against us' questions."
Divest BU, an activist environmentalist group on campus, is pushing for the divestment of fossil fuels and highlighting the impacts that fossil fuels have on our current climate.
Edward Loechler, a co-head of Divest BU and a biology professor in the College of Arts and Sciences, said he believes the earth is in serious trouble.
"Even if we do everything we can at this moment to try to minimize the impact of climate change, we will have huge impacts," he said. "We have already seen them, and they're only going to get worse."
For BU, Loechler said, the strongest thing the university can do is divest.
"[Divesting] is the test for whether an institution now believes this climate change, believes it's caused by humans, believes it's serious and believes that something different needs to be done," he said. "That is why Boston University has said that it is imperative that we stand up and make this political statement. The only way it's going to happen is if people, like Divest BU, engage with the process here at BU and help them understand the nature of this crisis."
Several students said collegiate involvement with divestment issues can make a positive change.
Allison Wenner, a freshman in the Questrom School of Business, said she believes in divestment and its impacts.
"Divestment of fossil fuels is really important for creating a more sustainable society and alternative energy sources like wind and solar energy would be really beneficial to societies and the earth," she said.
Dione Sun, a freshman in Questrom, said BU may be inherently hypocritical in advertising itself as a sustainable school if it is still investing in fossil fuels.
"I think [divestment] would make us more credible as a school, because if we really want to commit to something, there needs to be real change seen, not just in the small aspects, but in the long-term," she said.