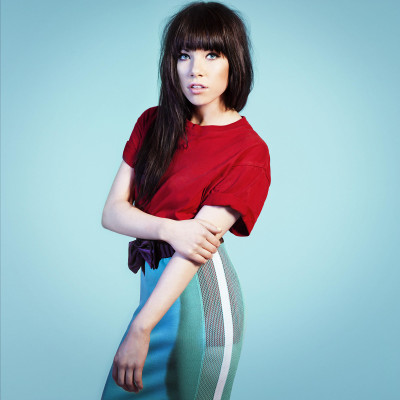 Few would've thought that in 2012, the year in which Carly Rae Jepsen's "Call Me Maybe" took over the radio, the artist would ever produce a practically flawless 15-song album. "Call Me Maybe" seemed like a textbook one-hit wonder. It was too catchy, too perfect to ever be topped.
And yet, the Canadian pop singer played a litany of superb songs from her new album "Emotion" Tuesday at Paradise Rock Club during the Boston stop of her "Gimmie Love" Fall Tour. "Emotion" sounds like the infatuated, rapturous beginnings of a relationship, which is unsurprising since relationships were a theme of the night.
"This next song is actually a song that's a little evil. What's the word?" Jepsen said in her introduction to title track "Emotion," and paused for a second.
"I wanted my ex to miss me, but I didn't want him back," she said, grinning mischievously. Cheers and shouts of "Yas queen!" came from the crowd.
Later in the performance, Jepsen took a jab at herself for her obsession with boys and relationships.
"I get teased a lot," she said. "The general story was that I was always talking about boys and I could see and sense how annoying that was becoming. So, rather than stop that, I just wrote a song about it."
And with that came the soaring synths and spoken word intro of "Boy Problems."
"Listen, just leave or stay," singer Sia Furler says on a recording, playing the part of Jepsen's exasperated friend. "But I'm done listening to it."
The crowd got down to the groovy, hip-shaking bass line while Jepsen sang about the strain her boy obsession put on a friendship, and she danced around the stage like a pro, spinning around with her arms over her head and flashing the crowd a playful Miley Cyrus-esque tongue-out smile.
Jepsen kept up her cheeky banter throughout the night, but was at her most brazen when introducing undeniable banger "I Didn't Just Come Here To Dance." This is the closest Jepsen gets to EDM on "Emotion." While introducing the song, she described how most people have a not-so-hidden ulterior motive when going to clubs.
"Girls would be wearing these little outfits — short skirts, halter tops and lipstick," Jepsen said. "And they're like 'I just came here to dance.' And I'm like, 'No you did not, clearly.'"
My heart sank a little as I prepared for Jepsen to go on a slut-shaming rant. But then, she somewhat restored the balance.
"But it's okay, [because] neither did I," she said with a shrug and a devilish smirk.
The bump-and-grind beat dropped. Paradise Rock Club transformed into a dance club.
"I only came here for you," Jepsen sang, pointing at the crowd. The chorus broke down into a big handclap beat, and then gradually built up again until it reached the breaking point. Jepsen raised her arms, and the stage went dark as the instruments dropped away.
"I didn't just come here to dance," Jepsen yelled.
Then the lights went on and the beat came back, larger than ever. Jepsen pumped her microphone in the air while the crowd pogoed and did some Jersey Shore-style fist pumping of its own.
Jepsen toned things down for a minute with sensual, '80s-inspired slow jam "All That." The track is one of several on "Emotion" produced by Ariel Rechtshaid and Devonté "Dev" Hynes, also known as Blood Orange, whose influences are unmistakably present on the album.
Rechtshaid's retro pop aesthetic and Hynes' laid back funk aesthetic combine most brilliantly on "All That."
Jepsen serenaded the crowd over shining synths while friends and couples swayed with each other. The ending exploded and Jepsen showed off her vocal chops with runs.
Then came a grand finale if there ever was one.
"That was the warm up. Here's the real thing," Jepsen said before sending the crowd over the edge of pure pop rapture with the double whammy of "Call Me Maybe" and "I Really Like You."
"So?" Jepsen asked the crowd during the chorus, holding out her microphone.
"So call me maybe!" they shouted back.
Jepsen smiled and shimmied to the other side of the stage, looking like she was having a genuinely great time.
During "I Really Like You," a group of guys in front held up four handwritten signs, together spelling "I really, really, really like you," obscuring Jepsen from view.
But it didn't matter. The song, and the moment, was bigger than Jepsen and the other musicians on stage.
And then it all ended.
"Thank you so much!" Jepsen said, and danced off stage.
A few people shouted "one more song," but to no avail. There was no encore. Like a fleeting first crush, the high of Jepsen's pop perfection was over all too soon, leaving as quickly as it came.