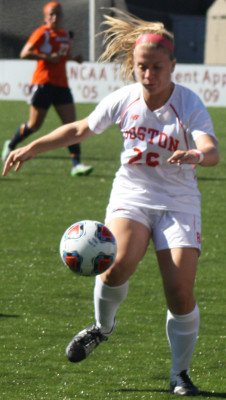 After winning the Patriot League Tournament, the Boston University women's soccer team will face St. John's University Saturday in the first round of the NCAA Tournament.
This is the third straight NCAA Tournament appearance for BU (12-5-3, 8-0-1 Patriot League), while the Red Storm (15-3-1) was bounced from the Big East Tournament by Butler University Nov. 6. The winner of this game will face the winner of a clash between the University at Albany and Pennsylvania State University.
To get to this point, BU usurped Bucknell University in the Patriot League final, but it did not come easily. BU might find itself in a situation yet again. The Red Storm finished atop the Big East regular season standings and allowed the fewest goals in the conference.
The Terriers have been extremely balanced as of late. They've shut out six of their last seven opponents, and have scored 16 goals across that time span. To defeat a talented St. John's team, their dominance will have to carry over to inter-conference play.
While BU has consistently performed at an elite level on defense, stopping Big East Offensive Player of the Year forward Rachel Daly will be no easy task. Impeding her for the Terriers will be senior goalkeeper Alyssa Parisi, who won Patriot League Goalkeeper of the Year.
BU coach Nancy Feldman said her team is prepared for the task at hand, regardless of how strong St. John's is.
"We've collected some scouting reports," Feldman said. "We know Rachel Daly is a fantastic goal-scorer and we just want to get a feel. It's not like other sports when you completely change your game plan for the opponent. You want to focus on one or two things. Mostly, we just want to prepare the team to play the best soccer we can."
BU thrived on defense as the Patriot League Tournament went on, especially against the Bison (11-6-3, 6-1-2 Patriot League). Feldman said she hopes that momentum translates into the game against St. John's.
"Our team defending is getting better every game and it's going to have to get better Saturday," Feldman said. "It's going to be tested. That starts with the defending by our forwards and our midfielders.
"I think we did a great job of that in the Patriot League Tournament," Feldman added. "We also did a great job passing and keeping the ball away from the other team, particularly in the second half of the Bucknell game."
Executing in big moments will prove vital for the Terriers if they can capitalize on goal-scoring opportunities.
"We have to execute in the final moments and timing our runs, hitting the goal line and putting our shots on frame," Feldman said. "That's critical in the postseason, because we might not get that many chances against such talented competition."
In the game against Bucknell, senior defender McKenzie Hollenbaugh and junior forward Erica Kosienski suffered injuries. Feldman said she believes, however, that they should be good to go for the game Saturday.
Feldman also harped on the importance of staying humble and keeping everything in perspective.
"We have to stay humble, you're never perfect," Feldman said. "We are confident in our abilities and we are confident that we will put our best foot forward going into Saturday. I think if you're always measuring yourself against the best you can be that's how you become a champion."