PROVIDENCE, Rhode Island — When senior captain Matt Grzelcyk and freshman defenseman Charlie McAvoy were simultaneously sent to the box for boarding penalties 2:31 into the third period, and the No. 11 Boston University men's hockey team trailing No. 1 Providence College by a score of 1-0, things could have gone poorly for the Terriers.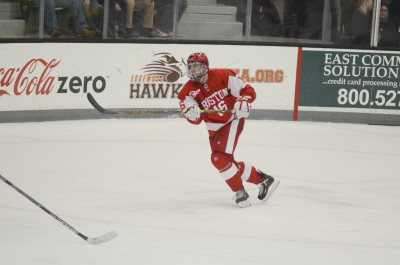 Things also could have gone poorly for BU (5-3-1, 3-2-1 Hockey East) shortly after that, when McAvoy was sent off for a game misconduct after contact to the head of a Providence skater, and the Friars (6-0-2, 0-0-1 Hockey East) had a man advantage for the next five minutes.
But somehow, despite playing shorthanded for seven of the first 10:34 of the third period, BU managed to stay behind just the one goal — and put itself in position eventually to tie the game and leave Schneider Arena with a crucial road point.
The 5-on-3 in the early minutes saw the Friars earn just one shot on goal from defenseman Jake Walman. Sophomore defenseman John MacLeod and senior assistant captain Danny O'Regan each had a blocked shot in the kill.
"The 5-on-3 was immense," said BU head coach David Quinn. "A full two minutes, guys blocking shots, understanding their responsibilities within the realm of the structure of killing a 5-on-3."
Just 1:03 after the 5-on-3 expired, BU found itself shorthanded again, when McAvoy was sent to the locker room early for his hit. But again, the Terriers limited the Friars' opportunities, giving them just two shots on goal over the span of the five-minute major.
MacLeod again came up big when he blocked two back-to-back shots from defenseman Tom Parisi and forward Erik Foley. In all, Providence could only get off five total shots during the major, with LaCouvee saving shots from Parisi and sophomore Brian Pinho.
Quinn described his team's penalty-killing efforts as "phenomenal."
"We did a great job," Quinn said. "We didn't get overextended, we stayed in our lanes, and we did a great job icing pucks when we had to, which is huge in the penalty kill. And our forecheck was good…
"You kill a full, seven of the first 10 minutes of the first period you're shorthanded, one of them 5-on-3 for two minutes, to keep it at 1-0 was just a huge, huge accomplishment."
Quinn also noted the power of the team's penalty kill in giving the Terriers an energy boost.
"Emotions and momentum certainly come off penalty kills and power plays," Quinn said. "…And I thought we fed off our penalty kill."
BU used that momentum to eventually knot things up, when senior forward Ahti Oksanen had the game-tying goal with 1:29 remaining in the third period.
"We're satisfied with the tie, of course … they had a two-minute 5-on-3 and a five-minute major so it was a gutsy effort from us, just even getting the tie," Oksanen said.
But moreover, Quinn said he was impressed by how "hard-fought" the game was, as exemplified in the first 10 minutes of the third period.
"We've got heart, we've got heart," Quinn said. "And heart can take you a long way in this sport."