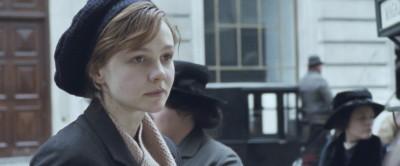 Carey Mulligan's dynamic role of Maud Watts, a laundress-turned-suffragette who plummets into the rawness and harshness of the women's suffrage movement in early 20th-century England, in the recent film "Suffragette" put a unique kind of pressure on the actress. Mulligan was tasked with embodying the courage and conviction of the selfless working-class woman who had reached a tipping point in her life.
For Mulligan, who spoke with The Daily Free Press in a conference call Thursday, the first step in preparing for such a demanding role was to find her voice. She accomplished this task by reading real testimonies of suffragettes and vivid prison diary entries. These gave Mulligan a clearer picture of their working lives — something she was never exposed to before.
"I did have literally a paragraph in my book at school about the suffragette movement," she said. "So it felt really kind of exciting to delve in and discover all of that stuff and bring it into the story and bring it into my character."
With the reality of the suffragettes' stories in mind, Mulligan made sure to avoid sugarcoating the extent to which the suffragettes struggled. Her role aims to showcase the desperation that was present as a result of the women reaching their breaking points. For example, the scene in which Maud's son is taken away from her is not sensationalized — it is based on the truth.
As Mulligan explained, these women had the most to lose, and as a result, their sacrifices were the biggest.
"It was almost frustrating to not be able to get more in there because there was so much that we found so inspiring," Mulligan said. " … We just wanted to pour all of it into the film."
Mulligan went on to describe her experience looking at a specific account of the events by suffragette Hannah Letson, an individual with a story very similar to Maud's. Letson was a stepping-stone that let Mulligan understand the transition from being a hushed young wife to becoming a suffragette.
It was also the lack of discussion that Mulligan said gave her the courage and push into being emotionally involved in the film. Seeing the suffrage movement being hidden behind the curtains inspired her and reiterated the culture of ignorance.
"This film is a reminder to people for when they use their votes what was done for them to have it," Mulligan said.
However, "Suffragette" doesn't simply provide a snapshot of the past, but instead encourages people to feel thankful. Maud's character aims to embody a feminist movement that should still be prevalent in today's age, Mulligan said.
"We're looking at a historical drama, something that seems like it was very long ago," Mulligan said, "but a lot of these things we still have to work on."
"Suffragette," then, is not a film to be watched and forgotten, and Maud isn't just a character to root for. The film has the ability to span the past, present and future in order to analyze Maud's impact in only 106 minutes, and encourages viewers to analyze her impact in their own lives as well.
"I think we still have 62 million girls who are denied an education," Mulligan said. "And that's so Edwardian and very outdated, and it's a really sad fact of today."
Mulligan said she could only hope that she "inspired people to take action." From a personal perspective, the film enlightened her and helped her learn so much more than her small textbook paragraph. She also said that the film allows the audience to really understand and discover Maud's transition through her involvement with the suffragette movement.
"It's through this journey, through meeting these women, that she becomes extraordinary," Mulligan said.
With an intimate and personal look at how Mulligan approached Maud, one cannot help but notice a strong justice done to the character. While Maud's complexity was sparked by her role of being a mom, wife and employee, becoming a suffragette added another layer. At one point, Mulligan cleared her throat and held her head up high. The voice that came out was nothing short of extraordinary.
"I definitely feel more proud than ever to be a feminist," she said, "and to talk about women's issues and more able to talk about women's issues than I was before."