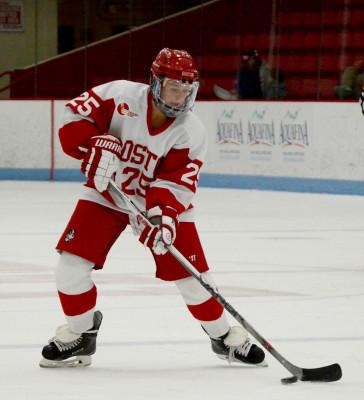 With three high-powered forward lines, the Boston University women's ice hockey team knows that few issues exist in the offensive zone. However, its own goalmouth has proven leaky of late, and often when the stakes are the highest.
The Terriers (8-6, 6-3 Hockey East) have allowed a combined 27 goals in five games against ranked opponents, but those worries dissipated some in this past weekend's doubleheader against the University of Maine. While the Black Bears (6-8, 3-6 Hockey East) only score 2.29 goals per game, BU returned to fundamentals it previously thrived upon.
"Defense is obviously a work in progress," said junior defenseman Alexis Crossley. "That's stuff we work on in practice every week and it's only going to get better as the year goes on. Yeah, we've been letting some goals up, but we've also been putting some pucks in the net. As long as we keep thinking defense-first, we're going to win hockey games."
In Saturday's 5-3 BU victory, junior goaltender Victoria Hanson faced 33 shots, while sophomore goaltender Erin O'Neil encountered 31 shots in Sunday's 3-2 win. A combined 64 shots against is too many for BU coach Brian Durocher's comfort, but there were few times when Hanson or O'Neil were under siege.
Rather, the Black Bears often settled for shots along the boards or through traffic — two scenarios that make any goaltender's day easier. Even on the few occasions when Maine found a way through, Hanson and O'Neil flashed their gloves or sprawled from one side of the crease to the other.
Performances such as those only breed confidence in BU's defensive corps, especially when someone as prolific as forward Emilie Brigham, with 22 career points, is kept out of the goal column across six periods.
"It's nice to see [Hanson] playing strong, playing big and playing well in the net," Crossley said. "That's important for any team to have, a goalie coming out and playing strong. Both Erin and Vic have showed up to play every game this year and definitely having both … is going to be a big advantage for us."
Another defensive advantage this past weekend came in the form of strong breakouts. While forwards are primarily tasked with generating offense, they often relieve pressure and scrap in the corners for loose pucks.
Even against a team as physical as Maine, BU's forwards rode checks and built possession.
"We're trying to be stronger on the puck when we're breaking out," said junior forward Maddie Elia. "I think it's important to get a stick on it, use our body to protect the puck and that helps us on the back end of things."
Moving forward, the onus will be on BU to keep making strides in the defensive zone. Outside of games against Cornell University and Ohio State University over Thanksgiving weekend, every remaining contest comes against a Hockey East opponent.
No. 7 Northeastern University is on the docket three more times, and No. 2 Boston College comes to Walter Brown Arena on Jan. 9. The Huskies (10-1-1, 6-0 Hockey East) boast senior Kendall Coyne, a veteran of the 2014 Olympics, while BC (14-0, 8-0 Hockey East) has senior Alex Carpenter, last year's Patty Kazmaier Award winner.
With talent aplenty looming, BU knows defense must be a priority, as offense can only carry a team so far.
"It's a work in progress, but I think if we focus on taking the middle of the ice away and getting back and finding our way from the middle of the ice, we're doing a much better job," said BU assistant coach Allison Coomey. "It's got to be a constant focus. Everybody every shift has to go out there and play that hard."