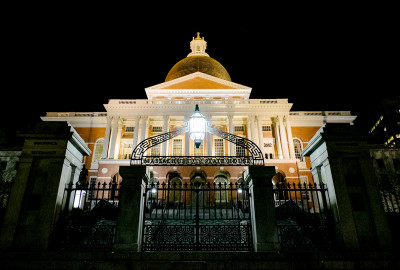 Advocating for legislation important to the Muslim community, students, leaders and members of Islamic advocacy groups gathered at the Massachusetts State House Thursday to launch the first-ever "Muslim Day on the Hill."
Massachusetts Rep. Marjorie Decker hosted the initiative while the MassMuslims, Muslim Justice League and the Council on American-Islamic Relations advocacy groups sponsored it.
Shannon Erwin, executive director at the MJL, said these solutions were prioritized because the Muslim community faces the same issues as any other community in Massachusetts.
"The Muslim community, like all communities, care about social justice and are eager to be a part of the solution to the problems that are facing our most disenfranchised communities," Erwin said. "This was an opportunity to build coalitions, to meet with elected officials and understand more about the legislative process, and to keep these social justice legislative campaigns moving forward."
Activists present lobbied for an omnibus bill, "The Justice Reinvestment Act," to increase neighborhood safety and opportunity by reducing mass incarceration for non-violent offenders, according to a Nov. 5 press release from the CAIR. The bill also plans to offer more job and educational opportunities for the community.
Members of the religious community also pushed for the decriminalization of non-violent and verbal student misconduct as well as the creation of more affordable and accessible housing, the release stated.
The MJL defends the Muslim community's civil and human rights and promotes justice in the face of institutionalized discrimination, according to its website.
CAIR, another member of the Muslim Day on the Hill coalition, is America's largest Muslim civil liberties and advocacy organization, according to its website.
John Robbins, executive director at CAIR's Massachusetts branch, said Muslims are very much a part of American life and deserve to be treated as such.
"We wanted to demonstrate to lawmakers that [Muslims] are in the face of a climate where locals often brand them as being somehow anti-American or exhibiting non-American values of faith," Robbins said.
Muslim Day on the Hill, Robbins added, is intended to show how important the Muslim community is to American society.
"We could show that, actually, Muslims are very much a part of the American fabric, that they are woven into American society, that they have a place in our society and that they are here to enact positive social change and make positive contributions," Robbins said.
Kecia Ali, a professor of religion at the Boston University College of Arts and Sciences, acknowledged the difficulties Muslims face in America due to prejudice.
"Well-funded hate campaigns have portrayed Muslims as closet extremists, as holding beliefs and engaging in practices incompatible with full belonging in the United States," Ali wrote in an email. "Bigoted rhetoric and violent assaults against women in headscarves and men speaking Arabic are on the upswing. Mosques have been vandalized and targeted by arsonists."
Ali added that Muslim Americans are simply following the American tradition of seeking representation.
"Muslims, who have been part of America since colonial times, are seeking increased participation and representation. What could be more American?" Ali added in the email.
Several residents said there should be increased political representation for the Muslim community in the state.
Reshad Kulenovic, 33, of Back Bay, said because the United States is a democracy, minorities deserve to be adequately represented.
"Because there is so much discrimination, you have to have representation in the City Council or otherwise you are going to have more discriminatory acts," he said. "Muslims are a marginalized population due to certain global conflicts."
Maha Alrakhis, 25, of Allston, shared the sentiment.
"Muslims need political representation," she said, "because if the officials are Muslims they will know what the population needs and can satisfy and help the needs of the Muslim people."