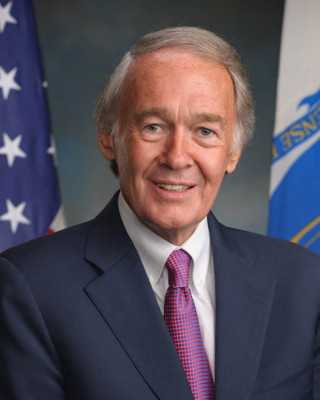 U.S. Sen. Ed Markey of Massachusetts is calling for support for Syrian refugees, following escalating tension surrounding Friday's attacks on Paris by the Islamic State group and U.S. President Barack Obama's plan to send 50 U.S. Special Operations troops to northern Syria.
While the Islamic State and other terrorist groups may attempt to instill fear within American citizens, Markey said the country cannot turn away Middle Eastern refugees.
"We should not close our hearts or our doors to the women, children and families that are fleeing the Middle East to escape war and the daily terror, violence and chaos it brings," Markey said in a Monday statement. "America has always been a refuge for the persecuted and oppressed."
Recent terror attacks in Beirut, Baghdad and Paris have raised questions regarding U.S. involvement in Syria, the War on Terror and the escalating refugee crisis.
Markey emphasized that America will guarantee its borders are free of loopholes and that all incoming refugees will be thoroughly screened.
"Whether it is on planes, on boats or through the refugee process, we must ensure that we have the strongest safeguards in place to keep terrorists from ever reaching our country," Markey said.
Massachusetts Gov. Charlie Baker said the Commonwealth will not accept Syrian refugees at the moment, citing safety as the top priority.
"At this time I find the idea of accepting Syrian refugees highly concerning and have no plans to accept them into our state and believe the federal government has an obligation to carry out extensive background checks on everyone seeking to enter the United States," Baker said in a Monday statement.
Boston Mayor Martin Walsh said while the state has yet to receive guidelines from the federal or state government regarding the refugee crisis, Boston residents should be prepared to accept refugees.
"As a city and as a country it is not our custom to turn our backs on people who are in need and who are innocent," Walsh said in a Monday statement. " … however should we be told that Boston is accepting refugees, we will work with our partners at the federal, state and local levels to ensure the safety of Boston residents."
In addition to the refugee crisis, politicians continue to debate policy in Syria as the United States plans to increase military involvement against the Islamic State.
John Woodward, professor in the Frederick S. Pardee School of Global Studies at Boston University, said a congressional debate regarding the use of troops in Syria is needed.
"America would benefit from a very robust and rich debate and discussion about what our policies should be with respect to Syria and ISIS, especially if they are thoughts about committing anymore U.S. forces there," Woodward said.
Joseph Wippl, another professor in Pardee, said the way in which Congress and the president work together will determine the next steps in the fight against ISIS.
"Congress likes to criticize the president but doesn't especially like to take responsibility for actions in international affairs, like sending ground troops to Syria, and I think the president is looking for some initial backing," Wippl said. "But maybe with the event that happened in Paris, that will give some impetus to getting a congressional vote on this particular issue."
Several residents said they feel safe in Boston, and think having a debate about U.S. involvement in Syria is a necessary task.
John Horn, 29, of Fenway, said he was unaware of congressional debate about Syria but sees why it is necessary.
"Actually that there is a need for debate for whether or not we should deploy troops to Syria," he said. "It's really important to attempt to keep peace as much as we can."
Steven Weifenbach, 28, of Allston, said having a more unified force against the Islamic State might affect the use of military force in Syria.
"There's definitely going to be a more unified effort against terrorism with ISIS taking responsibility. They're definitely probably going to attack a lot more in a unified manner," he said. "Conflicts have moved on from a nation versus nation war to a you're fighting an ideology, which is a lot harder to fight."
James Luo, 24, of Fenway, expressed sadness for the recent violence in Paris.
"A lot of us have a personal connection with Paris one way or another, maybe they have friends there or a personal vacation," he said. "It's alarming for us because it shows that even Paris, the city of lights, isn't safe from the uncertainty and the violence in the world. It makes us feel a little less secure."