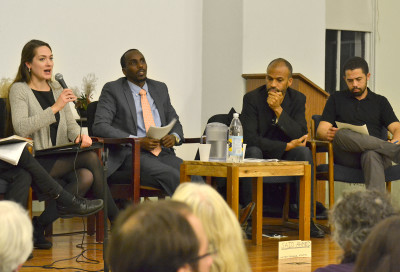 Hundreds gathered at the First Church in Roxbury Tuesday for the "Resisting Surveillance: Racial and Religious Profiling in Boston and Beyond" panel, where advocates discussed racial and religious profiling and surveillance.
The panel consisted of four activists who focused on profiling against Muslims, African Americans and other communities of color inside and outside of Boston. Speakers shared both personal experiences and advice before inviting attendees to participate in the discussion.
Shannon Erwin, executive director of the Muslim Justice League, discussed the Countering Violent Extremism approach, conducted by the Department of Homeland Security. Erwin said the approach is a method of scrutinizing the innocent.
"What we know about Countering Violent Extremism is not good," Erwin said. "It stems surveillance into education, social services and health centers as a way of oppressing political activism."
Said Ahmed, co-founder and president of United Somali Youth, warned that profiling will continue to occur until victims retaliate.
"[Those who profile others] came for communists and I did not speak up because I am not a communist," Ahmed said, quoting Martin Niemöller, a German pastor who spoke out against Adolf Hitler during World War II. "Then they came for socialists and I did not speak up because I was not a socialist. And then they came for the Jews and I did not speak up because I was not a Jew. And then they came for me and no one asked to speak up for me."
Ahmed focused on the increased impact of racial profiling on the Muslim community, as Muslims are one of the primary victims of surveillance.
"Who's hurting the most in Boston, feeling the most pain?" Ahmed said. "The Muslim community."
Carl Williams, of the American Civil Liberties Union of Massachusetts, said debates about immigration are often specifically targeted at certain groups.
"The war on immigrants really is a war on immigrants of color," Williams said.
Williams said profiling is an infringement of Fourth Amendment rights, as victims are searched and violated without just cause or warrant. Williams also highlighted the importance of uniting against profiling and surveillance within communities.
"Jim Crow didn't fall because of a lawsuit," Williams said. "It fell because people rose up and fought against it."
Several attendees shared personal experiences of falling victim to profiling in their communities.
John Larkins, 27, of Roxbury, said he was beaten without reason by three police officers and brought the case to federal court over a period of four years.
One police officer placed Larkins under arrest and accused him of trying to detain his aunt. Larkins had recently undergone surgery and was refined to a wheelchair at the time, but the officers forced Larkins to walk, despite several pins in his legs. That night, Larkins was tased several times, sprayed with mace and was slammed against an officer's vehicle.
"It was so hard that it dented the car and chipped the paint," Larkins said. "My teeth bashed through my lip. I looked them in the face and said, 'You can't do this. I have rights.' That's when he said 'You don't have any rights.'"
Larkins was summonsed to court over a period of two years, during which he was charged with three counts of assault against police officers, charges of resisting arrests and more.
"I had these criminal charges. I couldn't get a good job," Larkins said. "I had to leave school because of what happened and my injuries. I couldn't get readmitted into school because of how I left."
Larkins called obstacles plaguing the civil trial process a "tragedy" and said that few profiling victims have the financial means to take perpetrators to court.
"Many lawyers don't want to talk to you because civil cases don't really bring in too much money," Larkins said. "It's just tragic, the obstacles we have to overcome."
Nino Brown, 22, of Somerville said knowing he's more likely to be profiled by police makes him nervous whenever he sees officers.
"You don't really know when you're being surveilled because you're always being surveilled," Brown said. "So when I see a cop I'm like 'what are my odds, what are my chances?"
Helen Raizen, 66, of Jamaica Plain, said that she was shocked to see how prevalent profiling is in Boston.
"Some of the stories about the Boston Police [show that] we have a lot of work to do," Raizen said. "Police harassment of young men of color is not acceptable as far as I'm concerned."