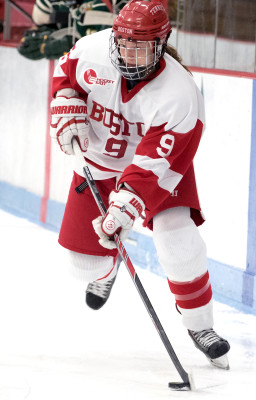 Senior forward Sarah Lefort of the Boston University women's hockey team scored three goals in her team's sweep of the University of Maine this past weekend.
She now has four on the season and 83 goals in her career, the most recorded in program history. Marie-Philip Poulin, who scored 81 goals at BU (8-6, 6-3 Hockey East), previously held this record.
In Saturday's clash with Maine (6-8, 3-6 Hockey East), Lefort put the Terriers on the board just 57 seconds into the first frame.
Maine tied it up shortly thereafter, though. In the middle of the second period, Maine was up 3-2 on the Terriers. With less than two minutes remaining in the frame, Lefort sent the puck past Black Bear goalie Meghann Treacy.
The next day against Maine, Lefort tallied a third period goal, extending BU's lead to 3-1. Maine eventually clawed one goal back, meaning Lefort's goal was the game-winner.
BU coach Brian Durocher said he is glad Lefort has found her groove after having a slow start to the season.
"When anyone around college thinks of Sarah, they think of her scoring goals," Durocher said. "We've grown accustomed to her scoring. She has a great shot [and] fast, quick hands. Everything points to a kid who has been important offensively and will continue to be."
Lefort is also 26 points short of Poulin's program-leading 181 career points.
Elia nets second game winner of the season
Following Lefort's game-tying goal in the first matchup, junior forward Maddie Elia secured a BU win with two third period goals. Elia has scored two game-winning goals this season, the first against Yale University in a 7-1 decision on Nov. 3.
The 5-foot-10-inch center leads the Terriers with 10 goals, and none have come on the power play.
"It's certainly good timing for us and for her," Durocher said. "It's important to get those [late goals]. Her confidence is high right now, especially after last year she had opportunities but was not quite finishing. To already be at double digits at this point in the season is a good sign."
Elia has already surpassed the seven goals she notched last year.
Penalty kills struggles in first game against Maine
Although BU swept the Black Bears, there were moments of weakness for the Terriers. Two of Maine's three goals in the first game were scored on the power play. The Black Bears' power play was not successful, as they scored on only six of their 47 opportunities. However, they scored during two of their six power play chances on Saturday.
The first goal was a 5-on-3 scenario, tougher to defend than a typical 5-on-4, so Durocher said he didn't think his team's performance was the sole reason for the goal.
"I think sometimes you give other team credit, tip your cap to the opponent," Durocher said.
However, he did say his team was lacking cohesion.
"We, as a unit, need more structure," Durocher said. "But sometimes a little luck is involved. When you clear a puck does it go to them or you?"
BU kills 83.3 percent of their short hand situations, which is good for fifth in Hockey East. The Terriers successfully fought off both of Maine's power plays in the second matchup.