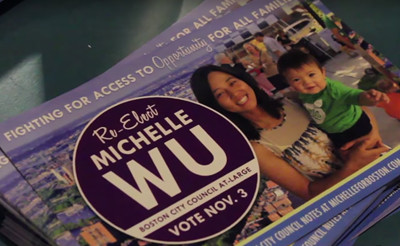 Michelle Wu, Boston City Council member at-large, was elected in 2013 and became the first Asian-American woman to serve on the council. In regard to the upcoming election for City Council president, Wu noted what the next president should focus on.
"The next City Council president needs to be highlighting and focused on communicating the work that the council does every week," Wu said. "We've seen some steps toward better accessibility with online video streaming and the organization of central staff. I want to focus on transparency, accountability and accessibility for the council."
In this month's election, Wu held the majority vote to secure her position as president of the council for the next term.
"My goal from now until then is to get a good understanding of what everyone wants to accomplish [in] the next term and how I can best support the council's work moving forward," Wu said. "I want to focus on housing, education and mental health as three really big issues for the city."
Wu stressed how the council needs to focus on strengthening its relationship with the public.
"For me, it's important to be out and connected to the neighborhoods," Wu said. "Residents want to get involved and participate in their local government, but we have to do a better job of letting them know what the council does and incorporating their feedback."
To continue the connection between the public's awareness and the council's discussion, Wu also spoke of her past efforts as a council member at-large.
"The last two years, I've been putting out weekly City Council meeting notes," Wu said. "I have an email list, and I put it out over Facebook as well, so there is one place where you can see what we are discussing on the council floor. We need to make sure the public has access to all of the information of what's going on and can get involved."
Wu added how important it is for constituents to trust and feel comfortable with city government.
"It's important that residents feel that they can reach out and that someone's there that wants to help them," she said. "I attend different cultural events and other meetings, just to make sure that people know that they can respect city government, and we want to help. We are actually the level of government that can improve things in really quick timelines."
Kajal Chattopadhyay, chair of the Asian American Commission, said Boston's diversity should be represented in the government.
"Boston is a diverse city," he said. "We have different demographics and it is only fair and appropriate for each of those groups to have representation within the government. Few people realize that Asian Americans are the fastest growing population in the country."
Christa Kelleher, research director at the University of Massachusetts Boston's Center for Women in Politics and Public Policy, said she noticed an innate sense of leadership in Wu's character.
"She brings a vantage point and set of experiences that are important for understanding the needs of particular groups of people in Boston, and those needs may not be currently represented well on the council," Kelleher said. "It reflects a sense [of] leadership already in herself that she would seek such a position, and she would step forward because that's not how it's worked in Boston in the past."
Residents said they believe having a representative city council is only fair to the constituents of the city.
Judy Dombrowski, 61, of Back Bay, said women of color have been underrepresented in government for a while.
"I'd like to think that any person in a political position likes to think they are representing all of their constituents, but sometimes no matter how much you try to identify, unless you've lived as a person of color or as a woman, you can't," she said.
Debra Wilson, 58, of Roxbury, said she supported Wu in her past run for the City Council position.
"As a woman and a woman of color, women bring fresh eyes to the situation," she said. "People of color bring fresh eyes because unless you've walked in our shoes, you have no idea. You have only read about it, you haven't lived the experience."
Brooke Eckstrom, 22, of Allston, said she agreed with a push toward a diverse governing body for Boston.
"[Diverse candidates] represent different backgrounds, so they can offer different points of view and can give a more holistic voice to the people they are representing rather than having one class of person helping so many types of people," she said.