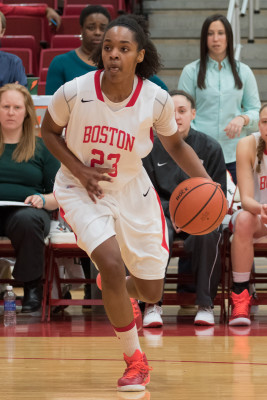 The Boston University women's basketball team dropped its second straight game Wednesday night, as the State University of New York at Albany emerged from Case Gym as 83-43 victors.
The Great Danes (2-0) made it to last season's NCAA Tournament and have won the last four America East Tournaments. Meanwhile, the Terriers (0-2) posted a 5-25 record in the 2014-15 season.
After a close first quarter in which BU was down just 10 points, Albany responded by outscoring the Terriers 32-9 in the 2nd quarter.
Like their opening game against Northeastern University, the Terriers were able to make things competitive in the beginning. Once Albany started making more of its shots, however, the contest quickly became out of reach.
The Terriers struggled getting any offensive rhythm going throughout the game. They shot 30.4 percent from the floor and 28 percent from a 3-point range. Ball control again plagued BU, as it turned the ball over 27 times against the Great Danes, making it a total of 48 turnovers in just two games this season.
Despite the lopsided scoreline, BU coach Katy Steding said she was happy that freshman guards Payton Hauck and Lauren Spearman and freshman forward Naiyah Thompson got quality playing time.
"Lauren and Naiyah and Payton got a lot of good time today," Steding said. "They're good kids, they're working hard and they have to understand there's more to the game than what you were able to do in high school."
The three freshmen combined to score 20 of the Terriers' 43 points. Thompson and Spearman, along with junior guard Sarah Hope and junior forward Meghan Green, all totaled nine points each.
While Steding's team had some bright moments, there still were inefficiencies across the board that eventually let the game get out of hand. Whether it was poor rebounding, not getting set defensively or missing passes, the Terriers were often not on the same wavelength, Steding said.
"They're figuring out that stuff now, and I think we're showing our immaturity right now in terms of being disciplined from the start and not coughing the ball up under pressure right away," she said.
Despite the promising performances from young BU players, Albany could not be stopped offensively. The Great Danes led in nearly every offensive category, as they shot 55 percent from the field, recorded 16 more rebounds than the Terriers and recorded 16 steals.
Albany also had three double-digit scorers. Forward Shereesha Richards scored 22 points and snagged nine rebounds in just 20 minutes of play.  Guard Imani Tate was right behind Richards, as she filled up the box score with 20 points, six rebounds, three assists and four steals. Center Tiana-Jo Carter chipped in 11 points to round out the double-digit scorers for the Great Danes.
Steding acknowledged that Northeastern (2-0) and Albany are two tough opponents to open the season against. The latter, in particular, routinely participates in March Madness and competes with the best teams in the country.
"You got to tip your hat to Albany," Steding said. "They're a tournament team. It's not like we were playing a slouch team. They were 62 percent in the first half and 55 percent overall. That's what happens when you shoot layups."
Steding also pointed out that her team needs to get stronger in and around the rim, particularly since they're not the biggest bunch.
"We also probably didn't give them enough credit from three," Steding said. "We were trying to protect the basket. We're not very big … Right now, we have to try and finagle some defense and toughness inside."