Momentum had shifted in favor of the No. 10 Boston University men's hockey team — but it almost got ripped away.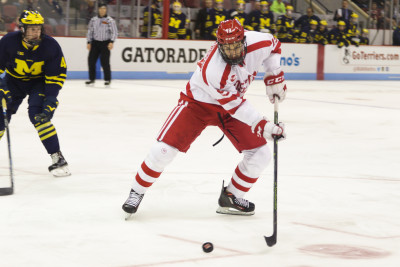 The Terriers (6-3-2, 3-2-2 Hockey East) had tied the game just two minutes prior, but the No. 12 University of Michigan earned a breakaway chance. Junior defenseman Doyle Somerby was the only thing standing between BU's goalie and an advancing Michigan skater, and Somerby earned a slashing penalty, giving the Wolverines (5-2-1) a penalty shot with 8:28 remaining in the game.
"They got kind of a lucky bounce and took off on a breakaway," Somerby said. "I didn't think I was going to be able to quite catch him, so I just tried to get as much of his stick as I could, and that's going to happen with a penalty when you come down like that.
"I didn't think I hit it too hard or necessarily much of a penalty, but when you chop down on somebody, it's going to get called every time."
But sophomore goaltender Connor LaCouvee stopped the attempt from Michigan forward Tyler Motte – and promptly celebrated with a kneeling fist pump — to keep the game tied.
Somerby then redeemed himself on the offensive end, and scored his second goal of the season with 2:54 remaining to lift the Terriers over Michigan, 3-2, on Friday at Agganis Arena.
BU remained undefeated at home and unbeaten for the sixth straight game. It was the third time in as many games that the Terriers were shut out through the first two periods — but also the third straight game BU was able to create a third-period comeback.
The Terriers got the comeback underway halfway through the third period when, just twelve seconds apart, senior assistant captain Danny O'Regan and junior forward Robbie Baillargeon scored back-to-back goals.
Just two minutes after Baillargeon's wraparound game-tying tally — his second goal of the season — LaCouvee preserved the tie with his save on Motte's penalty shot, which BU head coach David Quinn called the "play of the game."
Somerby took the lead with a shot from beyond the left circle, putting BU up 3-2 with under three minutes remaining.
"I saw it got bounced out from the front of the net, I think their D tried to clear it, luckily I was able to keep it in just before the blue line," Somerby said. "One thing we talked about is that they sell out for shots, and they try and block everything they can so I just tried to fake it and get around him and there was a great net-front presence by [senior forward] Ahti [Oksanen] and I just put it on net and anything can happen, so lucky enough, it went in."
"Obviously a huge goal by Doyle," Quinn said. "… It's been a great stretch for us over the last three weeks."
Michigan had control of the game early, outshooting the Terriers 15-8 in the first frame. Junior Alex Kile put the Wolverines (5-2-1) on the board first, when his rebound sailed past LaCouvee for a 1-0 lead 6:06 into the first period. Freshman Cooper Marody added another rebound goal at 10:28 of the period, giving Michigan a 2-0 advantage.
BU remained quiet in the second period, with just nine shots on goal; however, the Terriers were able to outshoot the Wolverines 14-4 in the third period.
But it wasn't until O'Regan's goal at the 10:44 mark of the third, when he sent in a shot from the high slot and went bar down, that BU was able to chip away at the deficit.
Quinn credited associate head coach Albie O'Connell with drawing up O'Regan's goal — and noted that it wasn't just the players on the ice celebrating BU's resurgence.
"I think Albie pulled a hamstring jumping off the bench, he was so happy," Quinn said.