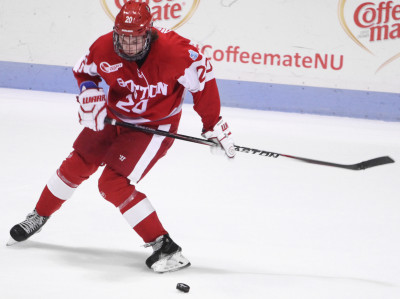 The No. 10 Boston University men's hockey team welcomes the No. 12 University of Michigan to Agganis Arena for a pair of games on Friday and Saturday with a five-game undefeated streak on the line.
The weekend kicks off the first of four games for the Terriers (5-3-2, 3-2-2 Hockey East) in nine days.
BU has split the last two games with Michigan (5-1-1) and most recently beat the Wolverines in a thrilling 3-2 victory on Oct. 25, 2014. Now-senior assistant captain Matt Lane scored the game-winning goal with just 3:10 remaining to give the Terriers the victory.
This year, Michigan features the second-best offense in the nation, averaging 4.43 goals per contest. The Wolverines average nearly 41 shots on the goal per game, almost five more per game than BU. Freshmen Kyle Connor and Cooper Marody share the team lead in scoring with nine points apiece this season. Another freshman, Brandon Warren, has posted eight points so far.
"[The Wolverines] are very opportunistic," BU coach David Quinn said. "They really can generate offense … They make you pay for your mistakes unlike any team that we've played. Puck management is going to be huge, being smart with the puck."
"They're very good. They're very talented," Lane added. "They have high-end skills. We don't want to play a track meet with them. We don't want to give in to their game. We want to continue playing our game, and make them play our game. If we play physical and responsible … we should be successful."
Michigan also has one of the worst defensive units in the country, allowing 3.3 goals per game. So far this year, BU has averaged 3.4 goals per game.
Two Wolverine goaltenders have primarily split time in net this season. Junior Zach Nagelvoort has played four games, averaging three goals against and a save percentage of 0.878. Senior Steve Racine has also played in four contests, with a goals-against average of 3.37 and a 0.892 save percentage.
"Our team identity is to play fast and not beat," Lane said about Michigan's defense. "So we're going to get pucks behind them, we're going to take pucks to the net and if we continue to do that over and over and over, then we will exploit their D."
For BU, fresh off a pair of ties against No. 1 Providence College on Nov. 13 and 14, sophomore goaltender Connor LaCouvee will earn his sixth straight start in net this Friday. Over his past three starts, LaCouvee has posted a 0.951 save percentage and a 1.58 goals-against average. He has started every game of BU's five-game undefeated streak, starting with a win over Denver Oct. 31 and two victories over Northeastern Nov. 6 and 7.
The Terriers will also look to capitalize on the recent contributions of senior forward Ahti Oksanen, who has six goals and eight points in the past five games, and freshman forward Jakob Forsbacka Karlsson, who had four points in the two games against Providence (6-0-3, 0-0-2 Hockey East). Senior assistant captain Danny O'Regan also has had eight points in the past five games.
However, BU's normal offensive corps will be a bit shorthanded this weekend, as sophomore forward Nikolas Olsson will miss both games with an upper-body injury, and junior forward Nick Roberto will continue to sit for disciplinary reasons.
To fill the vacancy at forward, Quinn will try a new experiment when sophomore defenseman Brien Diffley earns his first start at forward.
"I think it's gonna work," Lane said. "Brien's quick, he's fast, he's gonna play the wing this weekend. He's a smart, skilled player … I think he'll enjoy it."