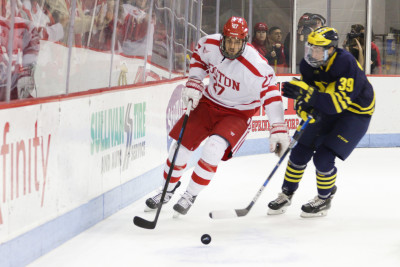 The third period, like it has been in recent weeks, was the tipping point for the No. 10 Boston University men's hockey team.
For much of the first two frames against the No. 12 University of Michigan on Friday, head coach David Quinn said he thought the Terriers (6-3-2, 3-2-2 Hockey East) weren't getting pucks to the net and were trying to be way too cute, "making play after play when no play was there."
The team had "real good players bobbling pucks and making tough decisions" and looked both "mentally and physically slow."
"I was curious to see how we were going to play tonight because over the last three weekends, we played 60 minutes of hockey, night in, night out," Quinn said. "And we've played hard, and we've played fast, and we just weren't able to do that for the first two periods. Some of that just had to do with the way that Michigan played. You always want to give your opponent credit, because I thought they gave us some issues."
BU was outshot 15-8 in the opening period and out-attempted 28-18 before it was able to match Michigan's (5-2-1) nine second-period shots. However, it was still behind 24-17 in middle-stanza shot attempts and down 52-35 in cumulative attempts when 40 minutes were up.
The first two periods were tough to watch for Quinn. There wasn't a lot of jump in the Terriers' step, he said, adding that the Wolverines were much quicker to loose pucks, quicker in general and much more alert than his team. Michigan managed to net two goals in the first 11 minutes of the game and was sitting on that lead as the final period was about to begin.
"We didn't really have a lot going on for ourselves," he admitted.
The Terriers trailed entering the third in each of their contests with No. 1 Providence College last weekend, so they weren't unfamiliar with the situation. However, in those two games, they had been playing much better than they were on Friday.
After Quinn moved past the frustration of how "poorly" BU was competing, though, he thought to himself, "it's only 2-0." He then passed the sentiment on to his squad.
"Second period, Coach came in, he was like, 'Sometimes you just don't have your legs,' which kind of seemed like we didn't," said junior center Robbie Baillargeon. "He said, 'If everyone's just a little bit better, then our whole team's going to be better,' and that's what happened."
The Terriers came out in the third and started playing up to and surpassing Michigan's pace. They held the Wolverines to four shots as they fired 14 of their own and kept pressure on, finally breaking through with 9:16 left in the game on a power-play opportunity.
Senior assistant captain Danny O'Regan received a pass from senior captain Matt Grzelcyk and skated up from the center point into the high slot before he wristed a bar-down tally past netminder Steve Racine. 2-1.
"Second period ends, and you're thinking, if we get the next one, you never know what can happen," Quinn said.
What happened was, 12 seconds later, BU found the back of the net again to tie things up. Freshman winger Bobo Carpenter had the puck behind the cage, and he dished it to Baillargeon at the left post, who swung it through the crease and into the goal. 2-2.
"It's not an easy thing to do when you don't play well for two periods, and be able to pull it together, and give yourself a chance in the third. And that's what I thought we did," Quinn said.
As the momentum shifted its way, BU then gave up a breakaway to Michigan with 8:28 left. Junior defenseman Doyle Somerby tried his best to recover but was just far enough behind that when he brought his stick down to stop the scoring chance, he was called for a slashing penalty. The Wolverines were awarded a penalty shot and the opportunity to put themselves back on top.
Winger Tyler Motte skated down the ice with the puck, but sophomore goaltender Connor LaCouvee stopped him, dropping to one knee afterward and pumping his fist down low. Still tied.
The Terriers continued pressing and made their third-period burst count with 2:54 to play. Somerby caught the puck at the left point after it bounced away from the net and maneuvered enough toward the slot to get a clean shot on goal. With senior wing Ahti Oksanen in front, the puck found the strings and gave BU the lead.
"I think everyone, no matter how much you play in the third period, was just a little bit better, and look what happened," Baillargeon said.
Despite being shorthanded for two of the last three minutes of the game, BU was able to accomplish what it couldn't last week and closed out the win, eventually outshooting Michigan 31-28 and out-attempting it 67-65.
"You're not going to play 34 great games," Quinn said. "You're just not going to do that. It's hard to do that at this level. But the key is, when you don't have it, what can you make of it? And we made two points out of it on a night we didn't have it."