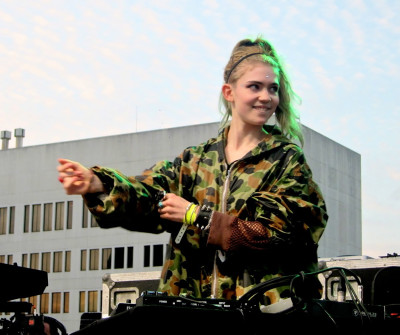 In the press whirlwind leading up to the release of her highly anticipated new album "Art Angels," Grimes expressed that this album would be very different from her last.
While Grimes told Q Magazine that 2012's "Visions" was "a sad record — cathartic, but victim-y," with this month's "Art Angels," she set out to make something "strong and aggressive" that more accurately represented her.
Grimes brought the strength and aggression of a whole battalion, figuratively but also literally, to the Paradise Rock Club Friday at the sold-out Boston stop of her "Rhinestone Cowgirls" tour.
A combat theme pervaded her whole performance, from the camouflage netting covering the stage to the frequently militaristic moves of her dancers.
Grimes, her back-up singer and three dancers bounded out on stage to a recording of "laughing and not being normal" before opening with "Visions" cuts "Circumambient" and "Genesis."
"This is one of my favorite songs to play live because I get to go a little crazy," said Grimes, before the igniting the crowd with "Art Angels" club jam "Venus Fly," featuring the voice of Janelle Monáe, which Grimes has said is about being "too scary to objectify."
"Hey, what about me? / Oh, why you looking at me?" Grimes snarled at the crowd members during the chorus, who were pogoing with their hands up like they were at rave.
"Wrapped my curls all around the world / Throw my pearls all across the floor," the recording of Monáe sang, casually subverting female beauty standards by weaponizing clichéd markers of femininity over a bass line so thick it may have actually shook some bones.
During Monáe's verses, Grimes dashed back to her equipment, turning knobs and pressing many different buttons like a witch adding ingredients to her cauldron with one hand, while simultaneously head-banging as hard as possible and pumping the fist of her other hand toward the ground.
Grimes then started to introduce the next song but was interrupted by a woman near the stage yelling and trying to give her what appeared to be a hand-made comic — the first of many gifts Grimes would receive throughout the night.
"Oh, thank you!" Grimes said, flustered but visibly flattered. "A lot of you are really good artists and I really f—ing appreciate all the art."
Then, continuing her introduction, she said, "Aristophanes isn't here for this song, so I'm going to be doing a Russian version this time because I can't sing in Mandarin."
The song was "SCREAM," the heaviest "Art Angels" track and the only song to solely feature another artist, Taiwanese rapper Aristophanes. It was also, disappointingly, only one of four "Art Angels" songs that Grimes would perform.
Grimes rapped fiercely in Russian as promised over ragged surf guitar, but things didn't get truly intense until the chorus. She screamed for a solid 20 seconds over a roughed-up marching band beat, kneeling and punching her fists on either side in an animalistic rage.
Her dancers clutched their throats in faux-screams, fell onto their knees and shot the crowd ghastly faces in Edvard Munch-worthy fashion. Strobe lights significantly increased the spooky factor.
"Go," Grimes' dub-step influenced collaboration with long-time friend and fellow artist and producer Blood Diamonds, ratcheted the energy up another level. Once the beat dropped and the erratic synths sounded, the Paradise actually realized its rave potential.
Smoke flowed onto the stage. The crowd jumped and fist-pumped their hearts out. Grimes held onto the back of her synth stand, leaned forward and whipped her purple and blonde ponytail around her head so hard that she could've given Willow Smith competition. The dancers pulled out toy swords and pretended to lick them while doing body rolls.
The biggest applause of the night was reserved for Grimes' biggest hit, "Oblivion." She looked both grateful and embarrassed, doing several small bows and hiding her face in her shirt, while the crowd cheered for at least a minute.
"You guys are screaming so loud," she said once the applause finally died down. "I don't know if any of you understand audio, but it's peaking in my [microphone] and it's really crazy, but I appreciate that."
But the energy of the night peaked, appropriately, with the final song — the "Art Angels" track "Kill V. Maim."
The start of the frantic synths got the crowd into a frenzy and the room exploded when Grimes sent out a war cry.
"You gave up being good when you declared a state of war," she shrieked.
Grimes won this battle. She figuratively slayed not only everyone in sight, but also every producer who told her she couldn't edit her own vocals, every music journalist who took her words out of context, every man that sexually harassed her.
Grimes' music proved that she is no longer content to play the part of the victim or escape from her problems. She is confronting reality in all of its ugliness and fighting back with the all-mighty power of music.