When your team earns a split against a top-15 opponent, there's usually something to be happy about and some positives to take home.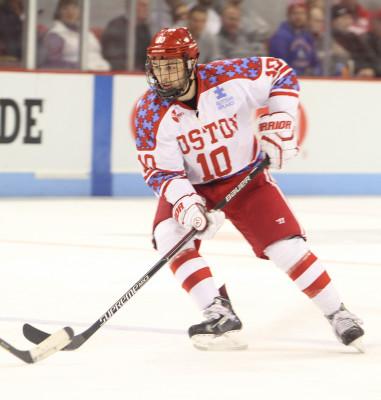 But after the No. 11 Boston University men's hockey team fell in the second game of a weekend series against No. 12 University of Michigan, head coach David Quinn said there was some soul-searching to be done.
His team took a "step back" this past weekend, and he and the rest of the coaching staff not only attempted to look at what went wrong on the ice, but what they may have done wrong as coaches.
"We look tired physically and we looked tired mentally," Quinn said Monday. "When your whole team plays like that way, you kind of look yourself in the mirror as a coaching staff and say 'What did we do to put ourselves in this position?'"
As Quinn reflected, though, he didn't want to overreact. It was the team's first loss in almost a month and it came after back-to-back emotional series with Northeastern University and No. 1 Providence College.
Plus, his team can turn things around in a hurry with a matchup on Tuesday night against Bentley University at Agganis Arena.
"The good news is we get to play [Tuesday] night," Quinn said. "Without question it's a positive. It gives us a chance to shake it off. … The challenge for every team during the course of a season is how do you react to a loss and that's what we talked about today."
Overreacting isn't the route Quinn wants to take after one loss, especially with the way the offense has played, most notably the top line of senior wingers Danny O'Regan (15 points) and Ahti Oksanen (12 points) and freshman center Jakob Forsbacka Karlsson (12 points).
Because of this, he said that he doesn't plan on making drastic changes. But that's not to say that there won't be a bit of a different look against Bentley (5-4-1).
Senior goaltender Sean Maguire will get his first start in net since he allowed four goals in a loss at Merrimack College on Oct. 30. Sophomore Connor LaCouvee had appeared to take over the reins as the starter over the last seven-game stretch where he went 4-1-2.
In his first season back since returning from a head injury, Maguire has gotten off to a slow start with a 3.92 goals-against average and .839 save percentage, which are well below his career averages at BU.
Another difference will be at the blue line, which will be without senior captain Matt Grzelcyk. Grzelcyk, who hurt his knee after crashing into the boards on Saturday night, will not be ready to play for Tuesday's game, but Quinn said the team hopes he can play Saturday night against Cornell University.
With that in mind, there is an open spot on defense, though Quinn did not say who would take Grzelcyk's spot in the lineup.
The Terriers get to attempt this quick rebound against a Bentley team that they've faced only once in program history, a 4-1 loss two seasons ago. This season, the Falcons sit in fifth place in the Atlantic Hockey Association, but have won three of their five games in November.
A freshman the last time the two teams met, Bentley forward Max French has been the leader of the forward corps thus far. In only six games played, French is tied for the team lead in points with 11 and is the top goal scorer with seven tallies. He has twice been named AHA player of the week this season.
Aside from French, Bentley has gotten a boost from the overall play of its special teams. The Falcons rank second in the conference in power play (25.7 percent) and on the penalty kill (87.1 percent).
The defense as a whole has been steady because of the play of goaltenders Jayson Argue and Gabe Antoni, as they've both been viable options for coach Ryan Soderquist. Argue has gotten the majority of starts with seven, and has a team-leading .941 save percentage.
Even with a Red Hot Hockey matchup against No. 16 Cornell University just four days away, Quinn said he expects his team to be ready to go against Bentley, which has already proven to be a tough matchup for one Hockey East team this season.
"These guys, they're a good team, they swept Northeastern [University]," Quinn said of Bentley. "… We know we've got a great opponent in front of us and we're going to do our best to give ourselves a chance to win."