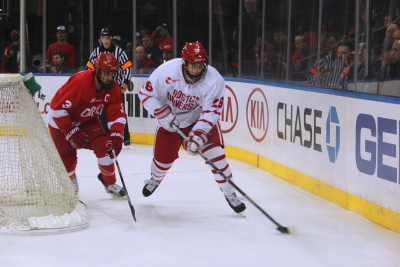 NEW YORK — For the No. 11 Boston University men's hockey team to have success, head coach David Quinn said, it's going to need contributions from everybody in the lineup.
Sophomore forward A.J. Greer and freshman wing Jordan Greenway have been playing well lately, their coach added, but neither had a goal to their name through 14 games this season.
"Looking on the stats sheet a week ago, I couldn't believe neither one of them had a goal, because they've been playing well," Quinn said.
On Saturday night at Madison Square Garden, with the Terriers (7-4-3, 3-2-2 Hockey East) down 2-1 and subsequently 3-2 to No. 16 Cornell University in the latest installment of Red Hot Hockey, the goal-starved forwards found the back of the net.
Their third-period tallies tied the game for BU and ultimately helped the team skate away with a 3-3 tie against the Big Red (6-1-2).
For Greer, who netted the 2-2 equalizer, big stages are where he does a lot of his work. Back in April of last season during the NCAA semifinal between the Terriers and the then-No. 3 University of North Dakota, the sophomore scored on a memorable one-timer that put BU up 3-1.
Seven-plus months later, though it wasn't a national tournament game, Greer came up big for BU again. With 8:30 gone in the third period, he skated through the left circle and wristed a shot at netminder Mitch Gillam that beat him high blocker side. It was the second goal the third line scored in the game, and Greer said both were a "collective effort" from the unit.
Greer himself has been more assertive on offense recently though, too. In his first 10 games of the season, the winger had recorded 12 total shots on goal. Since Nov. 20, in the first game against the No. 12 University of Michigan, he has 17 shots on net and has not registered fewer than three in any of those four games. He even managed a season-high six shots on Saturday night in New York.
Following that Nov. 20 win over Michigan (7-2-2), Quinn said Greenway was just scratching the surface of his talent, noting that the forward was so close but often seemed like he surprised himself that he generated a scoring chance and would give opponents time to recover.
"He beats people down low," Quinn had said. "He protects it, and he just doesn't have that last killer instinct to get pucks to the net when he beats someone down low."
On Saturday, Greenway showcased some killer instinct on his first goal of the season and of his collegiate career.
Senior assistant captain Matt Lane had thrown a puck at Gillam from down low on the right side and, while it was saved, the puck was loose under the goalie's pad. Greenway came in from the left slot and poked it home on the doorstep to tie the game at 3-3.
"We had to get the puck down low …" he said of his line. "And the last goal I think we just put the puck to the net in the right spot at the right time. But we knew we had to keep it simple, and get pucks to the net, and eventually one went in."
Like Greer, Greenway had just nine shots in his first eight regular season games while his most recent six contests have yielded a sum of 23 shots on net.
"Just getting my first goal here, get the monkey off my back, a moment of relief," he said. "I just really wanted to help my team get the victory."
The rookie now has three points in 14 games, and while the total might not be exactly where he wants it yet, he said he thinks he keeps developing as a player every day.
"That's all I can ask for," he said. "I think the points will come. I can only control what I can control. That's pretty much working hard every day, keep getting better."
Greer had similar feelings regarding his goal drought as well, pointing out that he only had seven points last season so "obviously it's on [his] mind the first couple games." However, he said he just changed his perspective and worked hard, getting better at doing the little things so the weight of those thoughts faded away.
"I knew it was going to happen, so I'm really happy it happened," he said. "It was a great feeling."
"I know when I was a player, I wanted to score goals too," Quinn said. "It's not that I don't want them to score goals, but you've got to take care of the process. And they both have been playing really well as of late, and you knew eventually it was going to happen. They're both too good of players to go this long of a stretch to not score a goal.
"Hopefully, these two, all of sudden the floodgates have opened," he added. "And hopefully they can keep playing the way they've been playing and they'll be productive offensively."