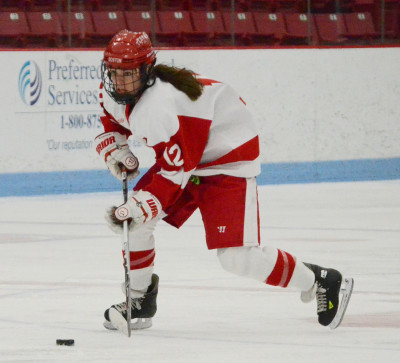 In its penultimate break from Hockey East play, the Boston University women's hockey team split decisions this past weekend against Cornell University and Ohio State University in the inaugural Windjammer Classic.
Holed up in Burlington, Vermont, BU (11-7, 8-3 Hockey East) dropped a 4-2 decision to the Big Red (5-5-2) on Saturday. The Terriers then quickly rebounded on Sunday with a 5-3 victory over the Buckeyes (6-10), an opponent they haven't encountered since the 2008-09 season.
Senior forward Sarah Lefort and senior defenseman Lillian Ribeirinha-Braga tallied in the first period against Cornell, but their efforts were not enough to ward off their ECAC opponent. Rather, Cornell lit the lamp 5:49 into the first and finished the game with three unanswered goals, despite only registering 17 shots on goal.
"Cornell have struggled to score goals this year and … they got some real hard-working goals and probably a few less than perfect ones," said BU coach Brian Durocher. "They're ones we'd want to get back, but credit to them that they were able to get those scrappy goals."
While Cornell owned the scoreboard, BU's downfall came on the power play, especially in the third period while it trailed by two. The Terriers had four man-advantages in that frame, but couldn't get the puck past goaltender Marlene Boissonnault.
"Even though we moved it around, we shot it at them a few too many times," Durocher said. "When you go 0-4 it creates momentum for them and the clock starts ticking down. We just couldn't get a puck off our stick or off our feet and it allowed them to kill the period really."
After Saturday's game, Durocher emphasized that BU would need to be "more thorough in the tough areas of the game" against Ohio State, and it did just that against its WCHA foe.
BU jumped out to a 3-0 lead with 3:39 left in the second period, as sophomore forward Rebecca Leslie, senior forward Kayla Tutino and Lefort all found twine. The latter two finished on the power play, and Durocher praised the ability of such proven players to erase Saturday's cobwebs.
"They did it on the power-play with three goals, got a couple even-strength goals and it was really important to start the game well," he said. "We had to get the bad taste out of our mouth and we really controlled the puck and had a real good first period."
Despite BU's early surge, the Buckeyes would not go down without a fight. By the 3:56 mark of the third period, BU held a narrow 4-3 advantage.
Sophomore forward Victoria Bach, who had a career-high four-point day, added the Terrier's fourth goal, but its strong first period nearly slipped away.
"It was a great answer by [Ohio State] because we did get a key fourth goal when Victoria Bach split two people and made a gorgeous shot to make it 4-1," Durocher said. "It kind of looked like we were going to get out of there in good shape, but they got one on a screen and a nice centering pass that was one-timed in. All of a sudden in 90 seconds it was another nail-biter at 4-3."
Nonetheless, Bach extended the lead with a power-play goal 10:33 into the third, and BU skated out of the Windjammer Classic with two of four possible points.
Looking ahead, the Terriers will only play Hockey East opponents the rest of the season, meaning results will be scrutinized even further.
"You got to get the wins outside of the league and we still probably have our NCAA opportunity in our hands if we can play real well in the second half," Durocher said. "[Cornell] was a big game we would've liked to have, but you can't cry over what happened in the past. You just have to focus ahead."