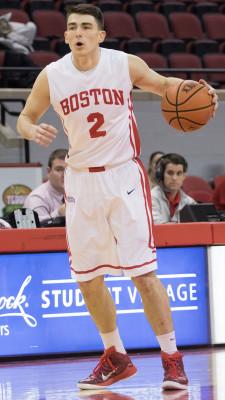 The Boston University men's basketball team travels to Amherst Wednesday night to face the University of Massachusetts in the final matchup of its five-game road trip.
Coming off a bounce-back win against Binghamton University on Saturday night, the Terriers (3-3) look to bring that momentum against their in-state rivals.
"It's going to have to be a team effort in a game like this," said BU coach Joe Jones. "What's good for us is we have a team that if we're playing the right way, the scoring can take care of itself in terms of us being able to put enough points on the board to win. It's more about the defense and the rebounding."
This will be the Terriers' first game of three in a row against in-state opponents, with tilts against Harvard University and the University of Massachusetts Lowell looming.
The Terriers have gone .500 on the current road trip, with two wins and two losses. The trip could be summarized as a roller coaster: losing big to the New Jersey Institute of Technology, then winning big against the University of South Florida, then losing big again to No. 1 University of Kentucky, then eventually winning by a 10-point margin Saturday against Binghamton (2-4). All outcomes were either double-digit victories or defeats for the Terriers.
This year's UMass (4-1) team is coming off its first loss of the season in Las Vegas, where it lost to Creighton University and former Terrier guard, Maurice Watson Jr.
UMass is led by its guards, Donte Clark, Trey Davis and Jabarie Hinds. The trio is averaging 16.2, 18.6 and 20 points per game, respectively.
"They are a very high-octane offensive team," Jones said. "The big thing for us is that a lot like the [University at] Albany game, we're going to have to really do a good job on their perimeter guys, and probably this is probably the best trio of perimeter players that we have seen in terms of their scoring ability. So we have our hands full, it's going to be tough, but I think it's more that we have to do it collectively, five guys working together to get it done."
The Terriers have to look out for all three wings, but Hinds especially, as he does it all for UMass. The Mount Vernon, New York, native leads the team in a number of offensive categories, including points, assists, steals, blocks, field goals and 3-pointers.
While the Minutemen have their big three, BU has four players of its own contributing in major ways, averaging double-digit points this season. With last year's top scorers, junior guards Eric Fanning and Cedric Hankerson, having yet to play this season, other players have needed to step up. A number of Jones' players have answered the call, including senior forward Nathan Dieudonne, senior guard John Papale, sophomore guard Cheddi Mosely and freshman guard Kyle Foreman.
Mosely and Papale lead the team in scoring, averaging 15.3 and 15.7 per contest, respectively.
The Terriers have shot a lot from deep this season, connecting on 39.3 percent of 3-pointers. In the post, BU was successful last game, grabbing a season-high 46 rebounds and scoring 32 points in the paint. Jones is content with the Terriers' long-range game as long as they keep taking quality shots.
"I think the big thing for us is if we take good [threes], we can make them, so as long as we're getting good ones," Jones said. "That's the thing that concerns me more, not how many we take, but are we taking good shots, and right now I feel like we're getting good shots. I think there are times where we need to play a little more inside-out. We're going to have to get the ball inside to [senior forward] Justin Alston more at times, but I think for the most part we're doing a good job of picking good shots."
In terms of preparing for the Minutemen, Jones said he believes that his team's focus shouldn't be on the offensive side of the ball, though — it should be on defense.
"We're going to have to do a good job of applying pressure," Jones said. "Defensively, doing a good job on their perimeter guys and then not turning the ball over, rebounding the ball … those are some of the aspects of the game that we have to do a great job in order to win."