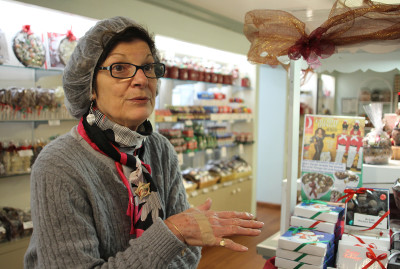 Phillips Candy House, known for its Oprah Winfrey-approved turtle baskets, is Dorchester's very own version of Willy Wonka's chocolate factory. Customers visiting the shop are greeted with delightful chocolate aromas and whimsical tchotchkes from the moment they step inside.
Mary Ann Nagle, the third-generation owner of Boston's oldest chocolatier, has the passion and the charisma of Wonka, and then some. She frequently makes rounds around Phillips, welcoming customers with open arms and chatting with her faithful employees. She puts extra care into the overall ambience of the shop, even going so far as to personally select the stuffed toys accompanying the holiday gift merchandise.
Phillips was initially founded by Nagle's Italian grandparents, Phillip and Concettina Strazzula, 90 years ago in the basement of their Revere home. Now in her early 70s, Nagle has worked at the shop in some capacity for a majority of her lifetime and diligently maintains the shop's strong sense of tradition.
"I've appreciated the product all my life because I've listened to my grandparents criticize and critique each kind of piece and each kind of chocolate," Nagle said. "We have tested chocolates through the years over and over and over again."
Her involvement in the family business began at a young age, as she and her cousins worked as children at one of Phillips' early locations in Belmont.
"We all scraped papers. We polished them," she said. "We did all kinds of tasks in the background until we were old enough to work in the store in some capacity. Many went on to do other things, and I stayed."
Nagle's steady voice and air of confidence reflect the lessons she and her cousins were taught by the family's previous generations. Phillips employees expressed their admiration of Nagle's ability to balance her disciplined authority with kindness.
"We come from an Italian background, and it was instilled in all of us growing up that the work ethic was very important," Nagle said.
That's not to say, however, that Nagle is intimidating in any way. The respect for tradition that she picked up from her Italian heritage causes employees to liken Nagle to an older and wiser family member.
"She's great. It's kind of like working for your grandmother" said Chelsea Williams, the assistant store manager. "She's very easy to talk to if you have to and she knows what she's doing … You can ask her about anything."
Carol Dominique, a member of the sales staff, enthusiastically agreed with Williams and added, "[Nagle is] a family person. You won't see that in other places."
Nagle said there is no such thing as a typical day at the shop, which has operated from its modest William T. Morrissey Boulevard location in Dorchester since 1952. This is especially true for her during the holiday season, when chocolate sales are at their highest.
"This is the busiest time of the year," Nagle said. "This is the fourth quarter, well known in retail as the make-it-or-break-it period of the year. This is the time of the year that everything has to get done."
For Nagle, the holidays entail keeping a close eye on all aspects of the handmade chocolate operations. She consistently checks in with the two candy makers, the shipping department, the corporate manager and the sales team to make sure that everything is in place and on track. All of these duties contribute to Nagle's long hours — she often works 12- to 14-hour days.
Nagle's casual tone indicated that she doesn't seem to mind the long hours, though. While growing up in the '50s and '60s, she watched her parents work all the time and therefore developed a sense of admiration for their dedication. This feeling is apparent in Nagle's current support system as well, she said.
"I have an extremely understanding husband who has learned to appreciate my parents in what they did to develop this business that much further," she said. "He is right there. He is very supportive of me."
What makes both Nagle and Phillips stand out is the strong sense of devotion. Nagle and her employees said they truly appreciate each and every customer, regardless of how much chocolate ends up being purchased. Sometimes, the sales team even sneaks customers extra samples of delectable varieties of chocolate bark and fudge.
This warmth has allowed Nagle and her family to form bonds with customers over the shop's 90 years. Just as her grandparents began the tradition of passing the shop down to their children, customers share their Phillips loyalty with successive generations of their own family. This act, Nagle said, is primarily driven by the shop's classic feel.
"When you eat a piece of chocolate today, it's the same as you ate it 25 years ago, and people know that. So we get families that come," she said. " … They know the product is made right here, not that long ago. They're not looking at something that was made a year ago and then sold."
And while running such a popular candy house with a relatively small staff is certainly a difficult task, Williams said this traditional process of creating and selling chocolate is what continues to boost her appreciation of Phillips.
"It's a mom-and-pop store," she said. "It's very different than working for a corporate company … It's great. I love it."
Despite her numerous responsibilities, Nagle sticks to Phillips' uncomplicated mission and makes time to simply taste and savor the products' rich flavors. While walking through the crowded kitchen space in the back of the shop, surrounded by chocolate snowmen and colorful ribbons, Nagle shared her favorite treat — Figaro, or dark chocolate filled with a creamy hazelnut paste.
At one point, she paused and looked into a large vat of melted chocolate with a smile on her face.
"There's something about warm chocolate," she said. "It's just really good."