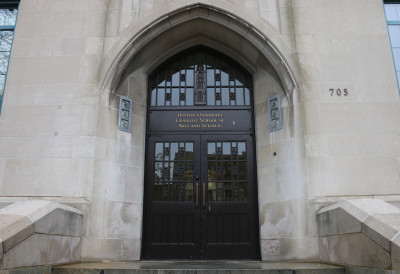 For Jade Luiz, a sixth-year graduate student in the Boston University Graduate School of Arts and Sciences, the extent of what BU graduate teaching assistants do should attract wider conversations regarding unionization.
Luiz, the president of the Graduate Student Organization for the archeology department, described her and her peers' responsibilities as teaching under "pretty fractured" funding while studying for their Ph.D.'s. While said she is unaware of any formal BU graduate student union, negotiations with the administration for higher stipends, she said, are poorly organized.
The unionization of grad students in private universities has been a hot topic at certain institutions across the nation, such as The New School in New York.
Grad student employees at The New School have been advocating for their rights as "student employees who provide teaching, instructionally-related or research services, including Teaching Assistants" since October, according to a court order document from the National Labor Relations Board. On Oct. 21, the NLRB voted 3 to 1 to re-consider letting graduate TAs at The New School unionize, according to the document.
Oliver Picek, one of the founding members of the Student Employees at The New School, which is unionized with the International Union, United Automobile, Aerospace and Agricultural Implement Workers of America, said students formed a union due to the high cost of living in New York and low stipends from the school. Picek, a second-year grad student at The New School, said apart from monetary compensation, other issues still on the table for change include healthcare benefits and better working hours.
"What we need is a collective voice, and that is what the union provides," he said. "It is a no-brainer that I am an employee as well as a student, because I'm working as a teacher for a private university. I give them my hours. I'm sure that even at BU there are problems."
Picek said New York University currently has the only private-school graduate student union with collective bargaining rights recognized by the NLRB. The NYU Graduate Students Organizing Committee, affiliated with UAW, was certified by the NLRB in 2000 and reached its first contract in 2001, according to the union's website.
In 2004, the NLRB found in a case involving Brown University that graduate TAs lacked bargaining rights as they primarily had an academic, instead of professional, relationship with their employer, according to an online document outlining NLRB's Oct. 21 decision. The ruling in the Brown case formed a precedent for SENS-UAW's petition to unionize, according to a client alert from the law firm Putney, Twombly, Hall & Hirson LLP.
With the unionization of BU's adjunct faculty in February, Luiz said, a graduate student union is something to consider. Weighting the benefits of unionizing and understanding what graduate TAs as a group demand would be the few necessary steps to begin unionizing, she said.
"As far as any power that graduate students have [to unionize], I don't think we really know. If grad students have been talking about it, it's not very loudly," Luiz said. "The murmuring has something to do more with funding issues as far as that, and how expensive it is to live in Boston versus school."
Christine O'Brien, a professor at Boston College's Carroll School of Management, said the issue lies in determining whether the graduate students are considered employees or just students.
"The argument for employee status would be if [graduate students] perform duties that are like other employees such as administrative staff or faculty members, thus they are not just students," O'Brien, an expert in labor law, wrote in an email. "The argument against this would be they are more students who are attending school, not really employees — their work at the school is just incidental to school."
Several BU graduate TAs said graduate students unionizing is not so much of a topic being discussed on campus but should be an idea to consider for more equal representation.
Calvin Ackley, a second-year grad student in GRS, said unionization for graduate students is probably very case-specific due to different stipends between various doctoral programs. Ackley works as a TA in two introductory economics courses.
"From an economist's perspective, [unionizing] is going to have some benefits and some costs, but the increasing bargaining power of labor is going to be good in situations where laborers didn't have substantial power," he said.
Caitlin Hardy, a first-year graduate student in the College of Communication and a TA in the school's introductory course, "The World of Communication," said she is in favor of unionization as it allows collective bargaining. Collective bargaining, she said, has lifted a lot of people into the middle class.
"To the extent that collective bargaining allows people who are disenfranchised to have a voice, it's a good thing," Hardy said. "To the extent that it's preventative and speaks to a larger truth, I think that it could be a good thing," she said.
Travis Newman, also a first-year graduate student in COM and a COM CO 101 TA, said she came from a public institution that allowed graduate students to unionize, and she sees the need for grad students in private schools to be able to unionize as well.
"Yes, [graduate TAs] do still have a 'student status,' but just like professors and student administrators, they are employed and they are on the payroll," Newman said. "As an employee, you should have power to unionize and it shouldn't be just up to the administration to decide what money goes where."