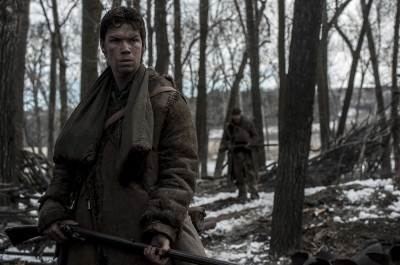 Will Poulter, known for his work in "We're the Millers" and "The Maze Runner," is currently starring alongside Leonardo DiCaprio and Tom Hardy in Alejandro Gonzalez Iñárritu's film "The Revenant," coming to theaters Christmas Day.
"The Revenant" is inspired by the true story of Hugh Glass (DiCaprio), an 1820s fur trapper who went on an expedition through the uncharted American wilderness. Poulter plays Jim Bridger, a 19-year-old on the expedition with Glass.
In an interview Thursday, Poulter said the most difficult part of filming, but also something that makes the movie unique, is how most of the lighting is natural.
Iñárritu, Poulter said, brought the cast and crew to remote locations in Canada and Southern Argentina for filming, giving them usually only a couple hours to film during the day because Iñárritu wanted to refrain from enhancing the movie with artificial lighting.
"Every single thing had to be meticulously planned because there was no, 'We'll get that from a different angle' or, 'We'll cut that together with another bit' or, 'We can adjust the light so you can stand there,'" Poulter said. "The light was the sun or the moon. We adjusted to nature."
Poulter said that there are also barely any computer-generated graphics throughout the film, which was a different kind of filming experience for him.
"It was like being part of a filmmaking process of a gone-by era," he said. "You wouldn't have that intense visceral experience if we'd been in a studio with green screens and wind blowers."
Although the lack of CGI was a new experience for Poulter, it was also one of the most challenging aspects of filming "The Revenant." Scenes relied on nature to be perfect, but there was such a short time frame to get a shot just right.
"It was about carefully choreographing everything and making sure you had the physical and technical elements down," he said. "It was a very interesting challenge."
Poulter actually enjoyed working in remote locations, he said, even though the harsh weather did take a toll after eight months of filming.
"I think we were actually lucky to shoot it in such inhospitable conditions because it reduced the acting challenge in a way," Poulter said. "On most occasions we were really cold and we were really tired and the terrain really was tough and all that gear was heavy."
Poulter said that Iñárritu's approach to filming in a natural setting was difficult initially, but ended up being a great opportunity.
"It's a treat to be able to work in those real environments," Poulter said. "At times when the camera was wider, you're in these huge, expansive areas of wilderness and you can't even see the camera and you're free to act. That's so awesome."
Poulter said he learned some important lessons by working with Iñárritu, who won an Academy Awards for Best Directing, Best Original Screenplay and Best Picture for "Birdman or (The Unexpected Virtue of Ignorance)" while filming "The Revenant."
As an actor, Poulter said he tends to rely on his instincts, and Iñárritu encouraged him to do whatever feels natural.
"Bridger had a lot going on emotionally — he had a lot of psychological complexes and so much going on — but Alejandro told me to just kind of accept that, play that confusion, play that turmoil and not overanalyze, which was useful," Poulter said.
"The Revenant" is based on a novel of the same name that recounts the events surrounding Glass's expedition, but Poulter waited to read the novel until after filming ended because he did not want to confuse the script's portrayal of the story with the novel's portrayal.
"Occasionally when you have two sources like that and they conflict, you can confuse yourself subconsciously," he said. "You can begin to develop uncertainty about who your character is."
When Poulter first read the script, however, he said he was struck by how engaging it was and knew he wanted to be a part of the movie.
"The script had been around for several years but it hadn't been made because it was such a huge undertaking and few people were talented or crazy enough to attempt it," he said. "I felt the intensity. It was visceral on paper. In my mind there was no doubt I wanted to be involved."