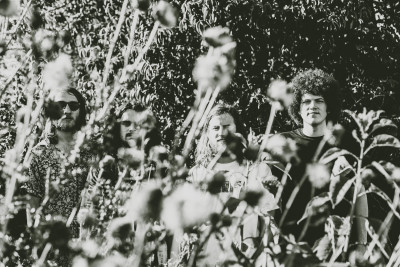 Growing up in Chattanooga, Tennessee, New Madrid singer Phil McGill played in bands but wasn't inspired musically by his environment. That's why McGill and the three other Tennessee-born members of the psychedelic rock band — Graham Powers, Ben Hackett and Alex Woolley — now call the music hub of Athens, Georgia, their home.
"Chattanooga is a city that's bigger than Athens, but culture-wise, it's nowhere near the type of creativity," McGill said with an endearing Southern drawl. "There's just not really a [music] scene like that [in Chattanooga]. The size of the city and the amount of art coming out of [Athens], it's just kind of mind-blowing."
Athens has a long history of cultivating musical creativity and communities, but the modern music scene truly exploded in the late 1970s and early 1980s.
Local bands such as The B-52s and R.E.M. rose to nationwide prominence, the latter with the help of the college rock scene. In the mid-1990s, indie rock bands such as Neutral Milk Hotel and Of Montreal gained popularity.
Today, live music institutions that McGill cited as some of his favorite hangout spots, such as the 40 Watt Club and the Georgia Theatre, along with a multitude of recording studios and record labels, keep Athens' musical tradition alive.
"It's like a self-fulfilling prophecy at a certain point," McGill said.
New Madrid formed in 2010 while McGill lived in Athens and the other band members lived scattered around Tennessee.
He wrote much of their debut album "Yardboat" as solo material that was later reworked for the whole band. The rest of the band's move to Athens helped New Madrid fully realize itself as a group and fostered a more collaborative songwriting dynamic with a focus on live performance for the group's sophomore release "Sunswimmer."
"We'd play shows here and there but it was really more of a theoretical experience than a realistic one," McGill said. "By the time we were doing 'Sunswimmer,' we'd been playing a lot, so I think the songs speak more to the kind of music we wanted to play live together on a stage versus songs kind of made up for imaginary spaces. "
New Madrid's latest release in October is a live album recorded at shows on the West Coast, featuring material from both "Yardboat" and "Sunswimmer."
Listening to the two albums provides a good overview of the band's anthemic, guitar-heavy sound and an idea of what to expect when they come Saturday to Allston's Great Scott.
When asked about his favorite artists, McGill first offered that his favorite Boston band is Grass is Green, a Pavement-esque, post-punk band featuring guitarist Devin McKnight of the indie favorite Speedy Ortiz.
New Madrid has played in the area three times before, and the group's members were able to see Grass is Green play at the Cambridge bar Charlie's Kitchen last spring.
McGill also recounted how the band had been having an off day, but seeing Grass is Green play in the "ideal, surreal setting" of Charlie's Kitchen, combined with witnessing a triumphant victory by the Atlanta Braves broadcast on the bar's television screens, lifted the band members' spirits.
"That was one of the greatest shows I've seen," McGill said.
McGill conveyed a great appreciation for the simple, timeless energy of live music and the in-the-moment connections to which it often leads.
New Madrid is the kind of band to proudly prefer analog recording to digital, surely champion the superiority of vinyl over MP3 and have overall vibes loudly proclaiming, "the good ol' days."
But at the same time, McGill said he realizes that the newfangled devices of our digital era can also enable human connection, be it over music or otherwise.
"People have entertainment in their hands and that can be distracting," McGill said. "But overall, stuff like [live] music and s— are going to stay around because there's still people that yearn for that connection and maybe for every personal connection a phone can take away it also opens up the doors for that. It's a double-edged sword."