On a night in which the No. 11 Boston University men's hockey team played with a "complete lack of emotion," in the words of BU head coach David Quinn, several players with former ties to BU proved effective for the University of Vermont.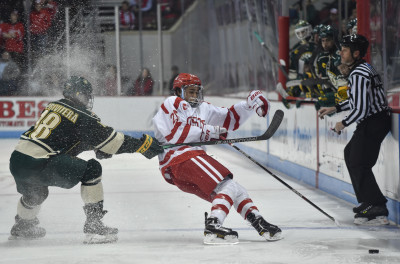 Forward Liam Coughlin, a South Boston native and former recruit of BU (7-5-3, 3-3-2 Hockey East), assisted on the eventual game-winner in a 4-2 victory for the Catamounts (4-9-2, 3-4-2 Hockey East) on Friday at Agganis Arena. He later notched an empty-net goal with a second remaining in regulation.
"You often wonder when a Boston native comes back to his home area for the first time, how's that gonna affect him," said Vermont head coach Kevin Sneddon following his team's win. "And I thought he rose to the occasion."
Coughlin initially committed to BU in April 2014, but later announced he had instead committed to Vermont in October of that year. His empty-netter on Friday counted for his first goal of the season.
"I thought that was Cough's best game," Sneddon said. "I'm glad he got his first goal right at the buzzer. The monkey's been on his back, so hopefully that's a good start for him."
Former BU recruit, defenseman Ori Abramson, had an assist on Coughlin's empty-netter. Abramson decommitted from the BU program in August 2014 after first committing in January 2014.
But perhaps the biggest influence came from a former BU player — and his brother.
Defenseman Alexx Privitera, who played two seasons with the Terriers from 2011-13, also had a large impact in his first game back at Agganis Arena since he departed BU.
In his two years at BU, Privitera had a total of six goals and 20 assists. He also had a profusion of penalties, accumulating 110 penalty minutes over the course of his BU tenure.
Privitera's departure came after he was suspended by then-BU head coach Jack Parker for the final 13 games of the 2012-13 season for on-ice discipline issues.
Since arriving at Vermont, however, Privitera has flourished, recording just 20 penalty minutes in 41 games for the Catamounts in 2014-15. He also ranked fourth in the conference with 78 blocked shots.
He entered Friday's game ranked second on the team in scoring and he added a pair of assists in the matchup, including a secondary assist on the game-winning goal.
His brother, Jarrid, a forward and also a former BU recruit who decommitted when Alexx parted ways with BU, had a goal in the first period on Friday.
"I know this was a nice win for them," Sneddon said. "I think they have a lot of friends here, whether it's the guys in the rink or the staff. There's still a lot of good feelings about their, or at least for Alexx, his experience here.
"But I think it probably feels pretty good that they were able to get a win. And they were a big part of it tonight."