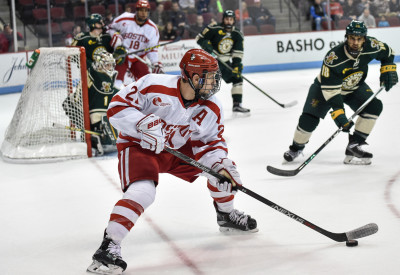 It wasn't the first time that David Quinn has said it, but after the No. 11 Boston University men's hockey teams's loss Friday night to the University of Vermont, Quinn characterized the performance as "immature" and "lazy." Their lack of emotion was startling, and it was apparent on the scoreboard at the end of 60 minutes.
What Quinn pleaded for after the game was a better performance for the next day's contest.
Hearing their coach's sense of frustration and disappointment, BU's seniors took it upon themselves to call a players-only meeting on Saturday morning. With no coaches in the room, the Terriers' de facto leaders expressed their own displeasure about what went wrong the previous day. But, there was a sense of optimism that the issues could be fixed.
"We had a meeting this morning without coaches," said senior winger Ahti Oksanen, "and all of us seniors kind of said how we felt about last night and what we needed to do differently tonight."
Though the specifics of the meeting were not discussed, whatever was said appeared to help get the job done, at least for one afternoon.
The Terriers (8-5-3, 4-3-2 Hockey East) put in a far better effort, and finished with a 5-3 win over Vermont (4-10-2, 3-5-2 Hockey East). And as far as the Terrier seniors, they practiced what they preached. Three of the four active elder skaters on the team — forwards Matt Lane, Danny O'Regan and Oksanen — each scored once and combined for seven total points.
"I thought Ahti and Lane played really well, two seniors stepped up," Quinn said. "And our seniors, Danny stepped up, our seniors stepped up and nobody felt good about last night. … It's a great sign for us moving forward when your seniors take control of a situation and I got to give them a lot of credit, they really steered the ship right today."
When senior captain Matt Grzelcyk went out of the lineup with a knee injury during BU's loss to then-No. 12 University of Michigan, there was a void left in both skill and leadership. So, without Grzelcyk, Lane and the rest of the seniors felt the need to take on a bigger role in guiding the rest of the team, namely the underclassmen.
"Just being a leader by example," Lane said. "With Grzelcyk being out right now, we don't have  'C' on the ice, so me and Danny, we've got to step up. We're two of only a few seniors, and we have a young group, just like we do every year."
After chipping in a career-high three points on Saturday, Lane did indeed up his game when BU needed it. With the Terriers still being shut out and down two goals more than halfway through the first period, the senior assistant captain found a way to spark a comeback with his speed and playmaking ability down the left side of the ice.
He made a cross-ice feed to the crease that banked off freshman Jordan Greenway and goaltender Mike Santaguida and eventually onto Oksanen's stick for an easy tap-in goal.
Later, as BU trailed again by one goal in the third period, it was Lane that got the Terriers back in the game. He blasted a one-time shot from the left circle high over Santaguida's shoulder to tie the game with 3:29 left. Lane's sixth goal of the year started a three-goal rally for BU, and the Terriers never looked back.
"We were buzzing around, we had [sophomore defenseman Brandon] Fortunato flying around down low, Greenway protecting the puck, I think Ahti had a few chances," Lane said. "When you have a shift like that, usually good things tend to happen toward the end."
As Lane skated to high-five his teammates, BU's public address announcer incorrectly stated Lane had 100 points in a Terrier uniform, when in fact he was only halfway there with 50.
Shaking his head on the bench, Lane knew the announcement was a mistake, but he just shrugged it off. Milestones aside, Lane said he was more than happy of the fact that BU got back into the win column with a valuable two points in Hockey East play.
"To be honest, I had no idea," Lane said on reaching the 50-point plateau But it's nice, it's nice to do it in a game like that. … We just kind of stuck to our gameplan."
He did end up inching closer to the century mark with an assist on Fortunato's empty-net goal, which was point No. 51.
Lane admittedly had no idea where his point total stood, but with a laugh, said it would be nice if it was a little higher.
"Yeah, I didn't know what it was, but I knew it wasn't 100," Lane said smiling. "I wish."