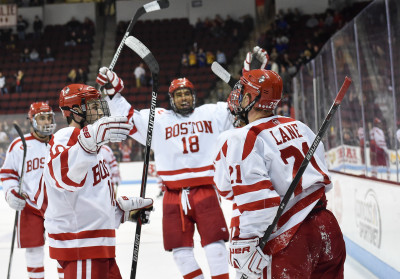 For the second time in as many nights on Saturday, the No. 11 Boston University men's hockey team found itself down 3-2 to the University of Vermont halfway through the third period.
In Friday's 4-2 loss to the Catamounts (4-10-2, 3-5-2 Hockey East), the Terriers (8-5-3, 4-3-2 Hockey East) allowed Vermont to score with 10:55 expired in the third period to break a 2-2 stalemate. On Saturday, the visitors broke through with 10:45 gone, but unlike Friday, they were unable to hold the lead, allowing BU to score three third-period goals and falling to their league foes by a score of 5-3.
Goals from freshman Conor O'Neil and forward Brendan Bradley two-and-a-half minutes apart in the first period gave UVM a 2-0 lead just over 10 minutes into the game. The tallies in quick succession, along with the fact that one of them came off a BU turnover, were also reminiscent of Friday's game when winger Anthony Petruzzelli and center Jarrid Privitera scored within a minute-and-a-half of one another to put their team ahead in the first.
"We have an incredible tendency to just give up incredibly eye-opening, 'wow' goals," said head coach David Quinn, "and if we're going to go anywhere, we've got to take that out of our game, and it's just amazing some of the goals we've given up."
The Terriers didn't make adjustments to their gameplan, though, said senior assistant captain Matt Lane.
"That's the thing," he said. "It was just mentally, we stayed on it. I think that shows how mentally tough we are as a team. And we didn't change a thing. We felt that they got a few bounces, and they did bring some pressure, but our D … we started maybe moving the puck a little bit quicker and being a little bit more urgent. But in terms of our gameplan, nothing changed. We just stuck with it."
Sticking with it proved beneficial for BU, which got its first goal of the game 14:08 into the opening frame. Lane was controlling the puck behind the net before he brought it to the left side. He spun and threw it across the crease, where it hit freshman forward Jordan Greenway and kept going as netminder Mike Santaguida hugged the left post, giving senior winger Ahti Oksanen the chance to tap it in on a wide open right side for his eighth goal of the season.
The line of Oksanen, Lane and Greenway was just one of the tweaks Quinn made to the forward lines prior to Saturday's game. Though they hadn't spent much time playing with one another, the trio recorded a combined seven points out of the 15 the team put up. Two of those seven points came in the form of the game-tying goal late in the game.
After BU knotted things up just 32 seconds into the second period as senior assistant captain Danny O'Regan capitalized on a pass from freshman center Jakob Forsbacka Karlsson, both teams carried a 2-2 tie into the third.
Petruzzelli snapped the tie a little over halfway through the final stanza off a BU turnover for what looked like a repeat of the prior night's events, but with 3:29 remaining in regulation, the Terriers got the goal they needed the day before.
Greenway had the puck low on the left in Vermont's end and fed it to Lane, who was waiting in the circle. The center fired a shot and it beat Santaguida high for the marker.
"When you have a shift like that, usually good things tend to happen toward the end," Lane said. "And we were able to sustain pressure, and Greenway found me and I happened to be in a spot with a little bit of space and enough time to get the shot off."
A minute later, after winger Brady Shaw was ejected for charging junior defenseman Doyle Somerby and put his team on a five-minute major penalty kill, the Terriers were presented with an opportunity to pull ahead. Santaguida sustained a lower-body injury on Lane's goal and so was replaced by junior Pat Feeley, who had never played in a college hockey game before.
Feeley had stopped the first two even-strength BU tries he faced, but 12 seconds into the man advantage, on the Terriers' first power-play shot, sophomore defenseman Brandon Hickey wristed the puck from the right circle to beat Feeley low for the lead.
Sophomore defenseman Brandon Fortunato added an empty-netter on BU's 51st shot of the game with 0.3 seconds left to give his team insurance as the buzzer sounded.
"They [Vermont] work hard, they pushed us," Lane said. "I think they got some bounces. We just kind of stuck to our gameplan. We knew that even though we weren't winning on the scoreboard for pretty much all of the game, we were doing the right things and we just stuck to that and we didn't get bored of doing that."
He added that while it would have been good for BU to take both games on the weekend, picking up the win on Saturday salvaged important league points and showed the team's ability to bounce back.
"We definitely could not afford to drop two," Lane said. "… It's nice to see our resiliency, especially after losing a full game and being down the whole game to come back and get a win. So obviously for Hockey East standings and just finishing out the weekend, it's nice to end on a win."