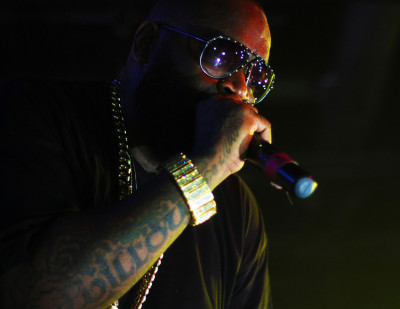 Even at 39 years old, Rick Ross has still got it. "Black Market," Ross's new album, shows that he still has something to bring to the rap table after all of these years. The album shows a new side of Ross — one that has appeared in his work and his appearance, due to Ross's recent massive weight loss and all he has experienced in his personal life in the last year.
Many of the songs on the album reference Ross's time spent incarcerated after being arrested for assault and kidnapping, spinning tales of hopes for redemption and the emotions he felt in prison.
"Crocodile Python," a jazzy and rhythmic track, references how trapped he felt, as well as bigger issues like social racism and his relationship with his son's mom. Ross himself said the track was written on a small piece of paper with an illegal ink pen while he was in prison, adding to the authenticity of his story and dynamic that Ross is trying to convey with the album.
Ross didn't shy from guest appearances on this album, with features on nearly half the tracks on the album ranging from Mariah Carey to Nas.
"Very Best," featuring Mary J. Blige, is a slow, live-sounding, groovy track that could make anyone that listens to it want to get up and move. "Smile Mama, Smile," featuring CeeLo Green, is a more serious track talking about Ross's relationship with his parents and trying to come to terms with what's important in his life.
With lyrics like, "I went unconscious, I woke up to see my mama smile / She told me no more promethazine, that'll make her proud," the song shows Ross's contemplation of his priorities and how he should continue to live his life.
Ross alludes to the infamous Drake and Meek Mill feud on "Color Money" with the lyric, "Color money got your b—- out on a world tour / My lil homie made a million on his girl tour," which are possible comebacks to lyrics from Drake's song "Back To Back," which is a diss track about Meek Mill.
Ross clearly isn't afraid to step in and stand up for his friends, making waves in the situation to get his opinion heard.
"Ghostwriter" is a track where Ross gives listeners an insight to what it's like to write for other artists before you make it big, and how Ross felt during the process. This has always been a hot topic in the music industry — how younger artists will sacrifice their records for big artists just to make money. Ross dissects the process with lyrics in the hook like, "It gets so lonely at the top / I get so lonely at the top."
It shows that even Ross feels alone sometimes, even when he's making money to give other artists his work.
While the album starts out strong, it starts to lose steam a bit toward the end. With tracks like "Sorry," featuring Chris Brown, which was the lead single off of the record, there are songs that are decently catchy but don't provide anything great to the album.
The vocals are overly auto-tuned and the whole message of the song — Ross and Brown apologizing to women they've lied to and cheated on — feels insincere. While the album provides some great, unique tracks, some sound like tracks that have already been put out there before.
Overall, "Black Market" is an impressive release — one of Ross's best in the last few years. By touching on multiple topics with a variety of contributors, it creates an engaging mix of tracks that any rap fan will enjoy.
He's got strong backing on the production side with great instrumentals, and he follows it up with clever rhymes and lyrics. As someone who drops releases pretty frequently and has made a name for himself, Rick Ross doesn't disappoint this time around, telling his stories through his music and drawing the listener into his fast-paced, high power life.