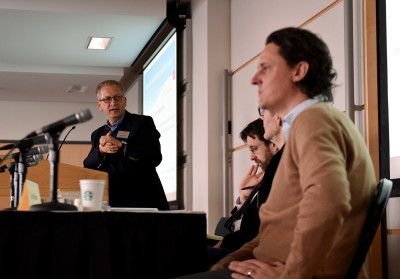 The Boston University Initiative on Cities hosted a summit Monday to address ways that various technologies, policies and low-cost design interventions could improve transportation in Boston.
About 100 people attended the summit, "Transportation Nudges: Experiments in Improving Urban Mobility," at BU's Photonics Center. The main objective of the event was to "change the conversation around transportation," said Katharine Lusk, executive director of the IOC.
"We want to ask: what are the interventions that have been proven to work, and what are the things that cities still have at their disposal to mitigate congestion, to improve safety, to create greener environments," she said.
Although the conference mainly consisted of local city officials, Lusk said the topic of transportation in Boston is just as relevant to BU students.
"We're an urban university, and the reality is, if the room had been filled with students and I had asked the same question of 'how did you get here today,' it would be a very similar answer," she said.
Lusk said she believes the ideas expressed during the summit will bring positive changes to Boston's transportation systems.
"Our hope is that the cities and towns that are represented here actually find actionable insight of things they can do tomorrow, and new partners they can work with, and new interventions they can experiment with," she said.
In particular, Lusk said, she appreciated the presentation from one of the summit's keynote speakers, Itai Vardi, as his words "shed light on the idea of being advocates and skeptics" when it comes to analyzing transportation methods.
Vardi, a professor of sociology in the College of Arts and Sciences, said he believes there is a need to go beyond "technical and quantifiable metrics" when looking at traffic accidents and other transportation issues.
"When statistics become a dominant lens by which you understand the problem, other conversations are marginalized," Vardi said.
Later in the event, a panel of various researchers and practitioners voiced strategies in how to develop urban mobility.
Panelist Chris Osgood, the city's chief of streets, emphasized the need to eliminate fatalities on the road through the initiative Go Boston 2030, a new policy to improve the future of transportation in the city.
"A lot of the data that's at the fingertip of cities are really poor administrative data," Osgood said. "Go Boston 2030 understands what those things are what is most meaningful to our residents when it comes to transportation."
Several attendees said the summit was a chance to educate and open up the discussion of new modes of transportation in the BU community.
Yasaman Khazaeni, a doctoral student at BU, said the conference was informative and that she believes there are various ways to eliminate vehicle congestion on roadways.
"Assuming that a lot of things right now are being done by vehicles that could actually be done by drones, you can actually limit the number of vehicles being used in the streets," she said.
Sara Constantineau, human resources and administrative manager at Hubway bicycle share, commended the conference for merging different perspectives to the problem of transportation.
"I think it's a great opportunity for academia to merge with transportation and policy," she said.
Angela Johnson, program associate at Transportation for Massachusetts, said she was enlightened by panelist Azer Bestavros, a computer science professor at BU, who spoke about building projects that bring constituents and businesses together.
"I like that he said that he thinks society is really the one to decide what are the laws and roles and rules are supposed to be." she said. "There are limitations as to what technology can do for us."