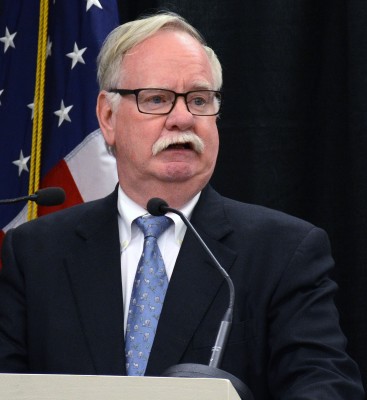 Boston University President Robert Brown is the highest paid university president in the state of Massachusetts and the only president who has a salary of over $1 million, according to a report published Sunday by The Chronicle of Higher Education.
The report analyzed the total compensation of 558 chief executives at 497 private, nonprofit colleges in the United States during 2013. Only 32 of the leaders made more than $1 million. The median salary was $436,429.
Brown made $1,182,534 in 2013, the report found. The second-highest earning college president was Joseph Aoun at Northeastern University, who made $998,960.
The report also analyzed data on 238 presidents from 220 public universities in the United States and found that only two presidents earned over $1 million. The median salary was slightly lower than private university salaries at $428,250.
BU spokesperson Colin Riley said in an email that Brown's salary shows a 1.58 percent increase from the past year. Brown's pay includes a base salary of $828,861, other reportable income of $101,548 and $252,125 in nontaxable benefits that include facilities that Brown uses for carrying out his job, Riley said.
Riley said that the Board of Trustees considers Brown's merits when deciding his salary.
"The Trustees set President Brown's salary based on a number of variables, including his leadership and the measurable impact which it has on the university," Riley said. "By those measures, the institution under Dr. Brown continues its now 10-year long rise in academic, research and student, faculty, community and fundraising excellence."
Ann Marcus, an education professor and the director of the Steinhardt Institute of Higher Education Policy at New York University, said Brown's salary is right where it should be considering the national prestige of the university.
"If you look at these private, highly diverse universities, he's right about in the middle," Marcus said. "So, in that sense, one can complain about the whole thing kind of getting out of hand, and I think that's pretty valid."
Marcus said that Brown's salary is in a similar range to that of a similarly diverse university such as NYU, whose president earns around $1.4 million.
Marcus said Brown has a more difficult job than Drew Gilpin Faust, president of Harvard University, because Brown has to raise more money to keep up with other universities.
"People want to give to Harvard because it's Harvard," she said, "[BU's] president has to work a lot harder at some of those things to keep the research profile of the university up so that [BU] is really competitive with places like NYU."
Marcus, however, questioned the pay for other university faculty while president salaries continue to rise.
"Universities have to be careful about how they handle faculty compensation when they think about the president's compensation," she said.
Several BU students said they were not stunned by the report's findings and Brown's salary.
Drew Faria, a freshman in the College of Arts and Sciences, said he was not surprised by the report's findings.
"That's certainly a lot of money," he said, "but BU is such a huge school and it gets a lot of income from all the students who go and all the things it does so I'm not surprised."
Allison Durkan, a junior in the College of Engineering, said she was unhappy about the report's findings because President Brown does not interact much with students.
"I don't feel he deserves that much money," she said, "He's not enough of a presence on campus and I don't think he does anything publicly for the students."
David Ortiz, a sophomore in CAS, said students will be upset about the report's findings.
"Good for him. He's making money and he's supporting his family," he said, "But students are going to be upset because they feel entitled that they should be making a million bucks too."