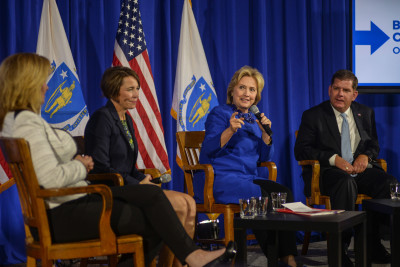 Democratic presidential candidate Hillary Clinton has gained support from 190 Massachusetts elected officials and community, labor and grassroots leaders, according to a list released Monday.
This list, called the "Massachusetts Leadership Council," includes U.S. Sen. Ed Markey, U.S. Rep. Katherine Clark, Boston Mayor Martin Walsh and others, according to a Monday press release.
Markey expressed excitement to be on the leadership council of such an effective leader.
"Hillary Clinton is the kind of effective leader America needs to continue building a strong, healthy and prosperous country," Markey said in the release. "Clinton's commitment to protecting our environment, combating the opioid epidemic, and standing up for our workers and their families is why I am honored to serve on Clinton's Massachusetts Leadership Council."
Massachusetts Attorney General Maura Healey, who has already endorsed Clinton, said she's excited to help the former Secretary of State win the presidency.
"I'm with Hillary because her commitment to creating more good paying jobs and raising wages for all Americans reflects the same values and commitment to working families that I work toward every day here in Massachusetts and they are what we need nationally," Healey said in the release. "I was glad to endorse her this summer, and am proud to be a member of her leadership council."
Virginia Sapiro, a political science professor in Boston University's College of Arts and Sciences, said the amount of support is not surprising when Clinton's party competitors are taken into consideration.
"With Hillary Clinton providing an increasing range of specific policy statements, for example, most recently on the financial sector, and with Senator [Bernie] Sanders a contender only in the New Hampshire primary, and Martin O'Malley not a contender for a primary win, it is not surprising to see the Democratic leadership … and a very large portion of prominent Massachusetts Democratic political leaders, endorsing her candidacy," Sapiro wrote in an email.
David Hopkins, a political science professor at Boston College, said endorsements have high importance.
"[Endorsements] matter as a signal to party activists and donors about which candidate is favored by the party's elected officials," Hopkins said. "For the people who are doing the endorsing, it's a way to curry favor with the endorsees with the hope that if the endorsee becomes the nominee, and then the president, then you've done someone a favor that maybe they will benefit from down the road."
Hopkins also noted that he is not surprised that Clinton has gained such extensive support in Massachusetts, considering her popularity within the Democratic Party.
"She's far and away the leading candidate for the Democratic nomination," Hopkins said. "There's at this stage no plausible scenario where she doesn't get the nomination. So for politicians that are being strategic, she's the horse to bet on."
Several Boston residents also shared their beliefs regarding Hillary and her campaign, as well as political endorsements in general.
Madeline Leger, 19, of Fenway, said even though Clinton is not her favorite candidate, the list is tough to ignore.
"[I'm] not opposed. [She's] not my number one choice either, not compared to the other Democratic candidates," she said. "The list adds credibility with names."
Mike Mahoney, 50, of Dorchester, said that even though he is not the biggest fan of Clinton, either, he believes these endorsements will help her.
"Not a big fan of hers. The Democrats could do a lot better than having her as a frontrunner," he said. "I think [the list] helps her, especially with Boston being a strong back in the unions and stuff like that. Like that key endorsement from the mayor, Marty Walsh."
Tess Pope, 55, of Jamaica Plain, praised Clinton for her intelligence and skill.
"Her technique is very, very smart. She's pragmatic and skilled," she said. "I don't always agree with her policies, but I agree with her in the sense that she's incredibly intelligent. It's impressive that she's been doing the nitty-gritty work. She may not be the favorite at the moment, but she's doing a lot of foundational work."